True Blood Fashion Q&A: Season 5 Premiere
|
A new season of True Blood means more fabulous fashion for our favorite Bon Tempsians (look, I made up a word!) and plenty of questions from True Blood fans about where to find it. Costume designer extraordinaire is ready to field your questions for the third season in a row as the True Blood Fashion Q&A feature returns on True-Blood.net.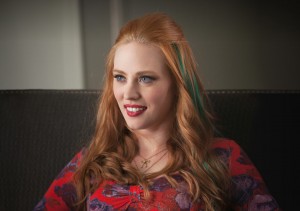 Q.  I just wanted to ask about Jessica's outfit in the first episode of season 5. Where is that dress from? And the necklace she's wearing is that Betsey Johnson? Thanks! – Jenn
A. Good eye, Jenn! We had a lot of emails asking about Jessica's karaoke dress, and you are correct, both pieces are by Betsey Johnson.  Since Audrey sourced that outfit so long ago, it's not longer available in stores. I did find a couple of similar options, one from Scala and another from Motel.
Q. I love the bright purple henley Sookie is wearing in episode 1 of season 5. Where can it be found? – Heather
A. Audrey kept it simple but slightly upgraded for Sookie, putting her in a henley from J Crew after she buries Tara and Pam (who got the Walmart clothes this time!). The long-sleeve henley is a staple for cooler months, like November when that scene happens, but the elbow-length version is available now.
If you have a fashion question for Audrey, please drop us a line describing who wore it in which episode and we'll try to track it down. Please note: only questions for season 5 are being accepted at this time. You can find answers to many of your fashion questions for seasons 1-4 in our Fashion Archives.