Exclusive! Third Video in the "Forsaken" Series Premieres
|
I'm hearing nothing but great things about the Forsaken line from HSN and HBO. The True Blood-inspired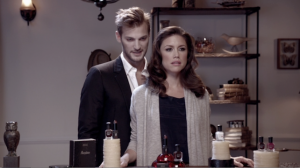 products will introduce their products with a special Facebook pre-order on August 8, a full day before the official launch. HSN has revamped its studio for this event, renaming themselves Human Shopping Network. HSN premiered a series of videos promoting the line and those can be seen on their Facebook page as well. In the videos, a hungry vampire invades the HSN studio but he's not looking to rip out a heart or anything as flashy. He does make the hostess a wee bit hot under the collar, though as she introduces the products.
Today, we are proud to bring you the third video in the series exclusively at True-Blood.net. HSN's sexy vampire tests the Forsaken perfume and it has a rather interesting effect on him. It's best not to linger when a vampire is under the influence of Forsaken.
You can experience the primal allure yourself when you pre-order Forsaken on August 8. The entire line debuts August 9.