Review: Checking Out the "Forsaken" Beauty and Fragrance Line
|
Yesterday UPS surprised me with a large box containing the entire Forsaken beauty line by HSN, HBO and Deborah Lippmann. Domestic obligations prevented me from writing this at that time, but the good news is that I've since had a lot of time to play with the products. Let me just start by saying that Forsaken is a perfect fit for True Blood, hinting at the danger and the beauty which are both at work in our favorite vampire show.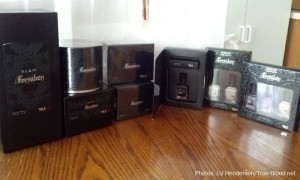 Let's start with the Forsaken packaging. When I opened the box I found three small white mini shopping bags, each containing a few of the products. I felt like I had my own secret shopper who sent a late birthday present to me. The products were well protected and packages so that as I opened each box, I discovered everything in perfect shape. The boxes are all black with embossed decorative scroll work, and some of them had what looked like a drop of red wax with the initials 'F & D', which I didn't understand except that it might stand for 'Forsaken & Deborah (Lippmann)'.  Perhaps someone can help me out with that. In any case, it was all very pretty but the real surprise came when I opened each product.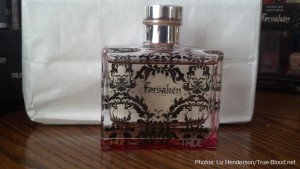 Starting with the diffuser, when I first took the bottle of fragrance out of the box I noticed that the name "Forsaken", and the decorative scroll-work were printed backwards. Being that I had only consumed half a cup of coffee at this point, it did take me a minute to realize that was done intentionally, because as I turned the bottle around, I saw that's the way you see the label – by looking through the front of the bottle. Clever! The bottle itself is a pretty thick glass, so I don't think this will break easily if dropped by accident. The bottom of the bottle is painted red so it gives the illusion of blood lying at the bottom.
The scent is absolutely lovely. I was immediately enchanted by it. Forsaken is not a frilly, floral scent. Instead, think deep woods with a hint of vanilla, followed by the more fragrant florals, like jasmine. After a while some citrus-y scents begin to surface. It's a gorgeous combination that is elegant and deep. I think the perfect word for me to describe the fragrance is chewy. I had two sticks burning along with the Forsaken candle in my room last night, and it had a calming and warm feel throughout. I think this will be perfect for the coming fall and winter months.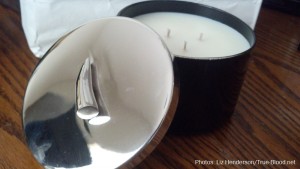 Speaking of the candle, this is a three-wick jar candle, but the most fun thing about this item is the lid. The jar is black but the lid is silver toned with a single fang in the center. How cool and fun is that?! I found it ironic that the fang was silver-toned as well. After this candle is burned through, I'll be using this on my vanity, thank you very much.
Next is the Eau de Parfum. Once again, the bottle is fun as it comes with a silver-toned ring around the neck of the bottle. Attached to this ring are two teardrop-shaped, blood red beads, making it look like blood dripping down the side of the bottle. Brilliant! Those beads are hung from chains and the whole ring is detachable. I actually put it on my finger and wore it as a ring, but it really looks good on the bottle. Again, the bottom is painted red to give the illusion of blood swirling through the perfume. Also, only a little spritz will do, so this product will last a long time.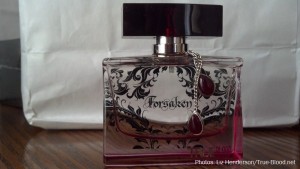 The shimmering body veil is a silky smooth powder, with sparkles that give that shimmery effect. I was completely glamoured. Sparkle does that to me. The shimmer is very subtle and so is the fragrance, so this is the perfect way to layer Forsaken on your skin without being bold and overpowering.
Let me talk about the body cream. Because this is a water based cream, it goes on smooth and very light, leaving no sticky, oily or tacky feel to your skin. This body cream can be worn even on those hot and humid summer days, which we have had in abundance here in the Midwest. In fact, my skin actually felt cooled and soothed after applying this cream. The fragrance is enough to wear alone or for evening wear, layers well with the body veil and perfume.
The nail polishes come in wonderful colors and although I have't tried them on just yet, I can tell you that they are great colors for all seasons. The Sookie Sookie collection comes in Human Nature, which is described on the package as "mortal, putty taupe". Sounds condescending, I know, so it must have been named by Pam. The other bottle is Fairydust and it's an iridescent white which can be used alone or over another shade, giving it that ethereal fairy look.
The Bad Things nail polish collection comes in Bad Blood, a dark cherry color; Strange Love, a more magenta shade; and New Flesh, a nude shade which is great for everyday wear, or for that one who likes polish on the nails but not the bold colors.
Finally, the Forsaken lip color and fragranced nail laquer. The nail laquer is called Let It Bleed and is supposed to be scented like the perfume, but honestly, I can't smell it. All I smell is nail polish. The color is a very deep red, almost black, color. The lip color is called Bite Me, and it goes on as a dark blackberry. I love it for night wear, but for daytime I actually lightened it up with a pale, shimmery pink gloss and it was perfect.
All in all, I was more than happy with all of the Forsaken line and would highly recommend it. They don't skimp on size. I took a picture of me holding the perfume just to show you how generous they are. The line launches today and is you didn't get a chance to pre-order yours yesterday, today is the official launch so head on over to HSN.com (Human Shopping Network) and grab any and/or all of them. Today's special is on the Eau de Parfum and it's a great price you won't want to miss out on.
Photos: Liz Henderson/True-Blood.net