Is [SPOILER] Really Gone from True Blood?
|
In last night's episode of True Blood, Jason and Jessica said goodbye to Hoyt after he decided to move on with his life…literally. He took a job in Alaska, asked Jess to glamour him into forgetting her and Jason (what a heartbreaking scene), and said goodbye to his Mama. But is Hoyt really gone?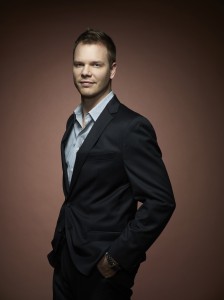 Jim Parrack posted the following tribute on his Facebook page after the episode aired which certainly sounds like a final farewell:
Well gang, I am so overwhelmed with gratitude. True Blood has been a blessing from the moment I heard Alan was gonna take a chance on me through all the years and people I got to work with and come to love, to this night where we say goodbye to Hoyt. It was my challenge and privilege and pleasure to bring this character to life. Our writers were always so generous to me in giving Hoyt meaningful stories and scenes and moments to act. If we started all over tomorrow and someone said "which true blood character do you want to play", I would not hesitate to chose Hoyt. He is made up of our writers' imagination and insight and my castmates' generosity and my heart. It's been an honor. I love my True Blood family and thank the Lord literally and very often for this blessing to be a part of it all. And if the Good Lord's willing and the creeks dont rise, I'll get to do something this wonderful and play a part this moving and rare and work with this pedigree of human beings and creative people again sometime. All of my love gang. Thanks for all the love y'all have invested
God Bless
TV Guide also has an interview with Jim about Hoyt's final episode in which he talks about leaving behind the friends he made, Hoyt's character development, and what Jim is doing next.
Let's talk about filming the glamouring scene, as well as the scene where Hoyt doesn't remember Jason. How hard was that for not only you, but for Deborah and Ryan?
Parrack: It was tough for all of us. Those were my two best friends on the show. When I found out, when Alan called me to tell me what was going to happen, I didn't want to tell everybody right off. I pulled Ryan and Deborah aside and they both got emotional and I got emotional. The day that we shot the scene, which I haven't seen it yet, it felt good. I think it was easy enough for all of us because there were parallels there. What was happening in the imaginary situation was us saying goodbye and the three of us were also saying goodbye.

Do you think this was the most-fitting ending for him? Are you glad they didn't kill him off?
Parrack: Oh, yeah. The writers have always been so good and so in touch with the actors. What I do like best is I didn't end up stepping on a land mine, or a vampire didn't fall out of a tree and snap my neck or something. It was this progression to this choice being made. The character had experience. He was now going to make a choice and I like that. I like when you see people making choices because change has happened in their life. So I'm glad Hoyt's still alive and I like that it was his choice. He says, "I'm going to go."
We had the opportunity to interview Jim during season 2, and were immediately drawn to his warmth, humbleness, and sweetness. If this is really the end of the road for Hoyt, he will be missed.