Tonight on True Blood: "Sunset"
|
After trying out three different titles, tonight's episode of True Blood ended up with the somewhat innocuous "Sunset" as its moniker. Compared to "Finally" and "Song of a Dead Faerie", it's not all that compelling. Or is it? Does the title refer to a plan the vampires have to attack at sunset? Or is someone about to see the sun set on their life? We'll find out in this second to last episode of True Blood season 5, airing tonight at 9/8c on HBO.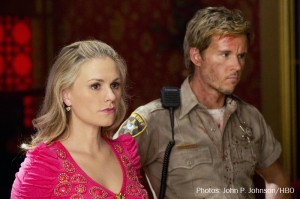 Slipping further into religious fervor, Bill gives Jessica an order she's loath to carry out. Armed with a damning video of Russell and Steve, the military delivers an ultimatum to the Authority. Claude and Maurella take Sookieto meet the faerie elder, who may know something about an ancient family secret. Alcide reconnects with his father; Sam and Luna hitch a ride into the Authority. Written by Angela Robinson; directed by Lesli Linka Glatter.
The eleventh episode of the season has traditionally been action-packed and included more than one jaw dropper; will tonight's episode live up to its predecessors? Join us for the official live chat at 8:45/7:45c and check out these features in the meantime.