Enter to Win An Apple for the Creature Anthology (New Sookie Short Story)
|
We have to wait several more months until [easyazon-link asin="193700788X"]the final Sookie Stackhouse novel[/easyazon-link] is released, but Charlaine Harris is giving fans a new Sookie short story to tide us over until then. The new anthology [easyazon-link asin="B007FEFBAS"]An Apple for the Creature[/easyazon-link], edited by Charlaine Harris and Toni Kelner, includes 13 school-based original short stories from authors of supernatural fiction.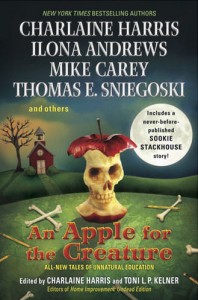 In "Playing Possum," Sookie brings cupcakes to Hunter's school for his birthday, at his request, but finds herself in the middle of danger (surprise, surprise!) when the school secretary's ex-boyfriend shows up. Although brief, this story is a nice little vignette featuring Sookie outside her familiar surroundings, and gives her a chance to interact with Hunter a bit.
Toni Kelner contributed a story, of course, along with Kate Daniels, Nancy Holder, and more. It's back to school like you've never experienced it before!
Enter to Win
We are giving away one hardback copy of [easyazon-link asin="B007FEFBAS"]An Apple for the Creature[/easyazon-link] to a lucky fan. Follow the instructions below to enter!
Note: This giveaway is open to fans worldwide.
Complete the form below and click submit;
Be sure to include a valid email account;
Add webmaster@true-blood.net to your "whitelist" to ensure our emails get to you;
One entry per person – duplicates will be deleted;
Entries must be received by 11:59PM on Sunday, September 23, 2012, to be eligible;
One (1) winner will be drawn from eligible entries and notified via email.
**This contest has ended. Congratulations to our winner, Alyssa T.!**