Anna Camp Considers Sarah Newlin, THE MINDY PROJECT
|
Anna Camp was last seen on True Blood in season 2 trying to explain why the wife of a prominent reverend had a fling with Jason Stackhouse. Tonight Anna debuts in the new series The Mindy Project on FOX, starring Mindy Kaling.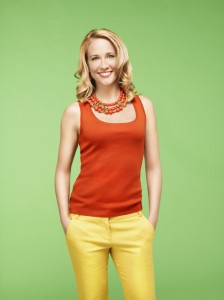 In a fun interview with The Hollywood Reporter, Anna answers questions about Fall TV and what she'd be doing if she weren't on The Mindy Project:
If you weren't involved with The Mindy Project, what show would you want to be on?

I'd want to bring back Sarah Newlin and see what's going on with her on True Blood.  I want to know what she's doing right now because I think that she's royally pissed off! I've seen what Steve Newlin (Michael McMillian) has been up to and I want to come back and reprimand him and make my presence known (laughs). The way he tied up Jason (Ryan Kwanten), I would probably have to tie him up somehow and then do some dominating!
Catch Anna tonight at 9:30/8:30c on the series premiere of The Mindy Project.