Where Have I Seen You Before Oh Crazy Faerie Elder?
|
The Elder Faerie appeared only briefly in episode 5.11, Sunset, but she made one of the biggest impressions next to Russell Edgington. She was nuts – in a nutshell! She had the best lines and was quick-witted, and I truly could not take my eyes off of her. Of course part of that could be attributed to the fact that I'd seen the actress before, many times.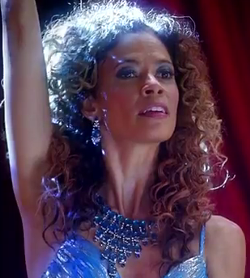 Erica Gimpel landed her first television role in the 1982-87 series Fame. She replaced Irene Cara as Coco Hernandez from the 1980 film which followed the lives, loves and successes of the students and faculty of the New York High School of Performing Arts.
Gimpel also had a recurring role in the series The Profiler, as Angel Brown. After The Profiler, Erica was Adele Neuman for six seasons of ER. I remember Erica in Veronica Mars, but she was also spotted in House, Boston Legal, Criminal Minds, Rizzoli & Isles, Nikita, Prime Suspect, Eleventh Hour and Grey's Anatomy. The list goes on and on.
The dancing you saw on True Blood was all Erica but what we didn't see, or rather hear, was her lovely singing. You can purchase her live CD, Spread Your Wings and Fly, at [easyazon-link asin="B0034PWOPW"]Amazon[/easyazon-link], iTunes and CDBaby.com. She's a beautiful talent in the Jazz/Pop genre.
Erica Gimpel is an entertainer in the true sense of the word. Graceful when she dances, serious in her roles on stage and screen, and if you want to hear her soul, get her CD. It's well worth the investment. And keep up with Erica on Twitter, @ericagimpel.