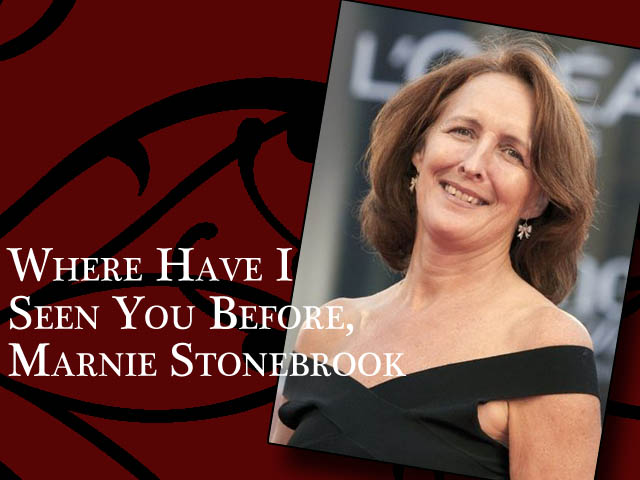 Where Have I Seen You Before, Marnie Stonebrook?
|
And we're back! Our 'Where Have I Seen You' feature has been on a short hiatus, but we are returning with some of the outstanding characters from season 4.
We'll begin with Fiona Shaw, who played Marnie Stonebrook, the palm reader who ultimately harnessed the power of a witch from ages past, Antonia. I was a little surprised when we had a handful of readers who did not recognize Fiona and claimed they had never heard of her. I suppose if you didn't get into the [easyazon-link asin="B005OCFHHK"]Harry Potter movies[/easyazon-link] this would make sense. And I watch a whole lotta British television and that may not be the norm among Truebies. But Fiona was highly recognizable even before her Aunt Petunia role in the famous film series.
Among her various credited roles are Mrs. Reed from the 1996 remake of [easyazon-link asin="B0053Q9DHW"]Jane Eyre[/easyazon-link], Mrs. Croft in [easyazon-link asin="B001DUDKEY"]Persuasion[/easyazon-link](1995), and she appeared in [easyazon-link asin="B004VHOAGS"]Anna Karenina[/easyazon-link] (1997), [easyazon-link asin="B0083SBMBM"]The Avengers[/easyazon-link] (1998), [easyazon-link asin="B000K2UVZM"]The Black Dahlia[/easyazon-link] (2006) and [easyazon-link asin="B003M986TI"]Dorian Gray[/easyazon-link] (2009). Fiona will also appear in an upcoming new Miss Marple mystery, Greenshaw's Folly, due out later this year in the U.K.
Fiona Shaw is the kind of talent that commands your attention on the screen no matter what role she's in, large or small. And then you never forget her. I loved what she did with Marnie on True Blood. Her transitioning between two characters was awesome to watch, especially when they were at odds with each other. While most people know her from Harry Potter, I would highly recommend that you check out some of her other works. Give yourself a treat!