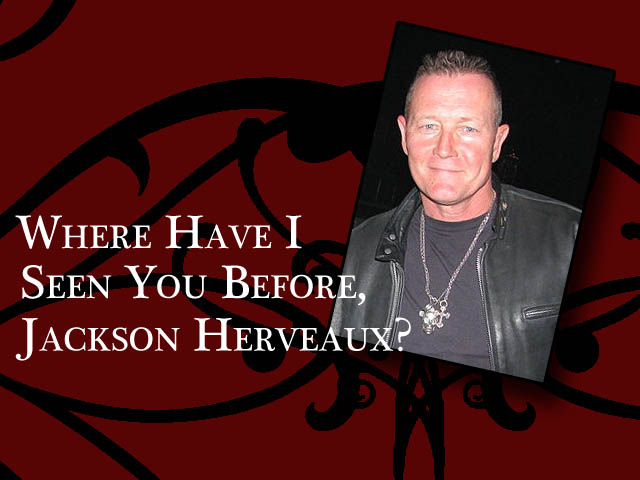 Where Have I Seen You Before, Jackson Herveaux
|
Robert Patrick took on the role of Jackson Herveaux, Alcide's father and former pack master. He seemed to slide into Jackson's skin fairly easily, and with his rugged looks and piercing gaze. When Alcide comes upon him he's a drunk recluse, but by the end of the season we can see what once was a true leader emerge. I am hoping that we'll see a lot more of that in season 6.
For those of you who are not familiar with Robert Patrick's work, or you feel that you should know him from something else, allow me to enlighten you. Back in 1991 there was this little film called [easyazon-link asin="B0037NVM2C"]Terminator 2: Judgment Day[/easyazon-link]. Patrick was the new and improved terminator machine, the T-1000, sent from the future to kill Sarah and John Connor.
Before he reeked havoc in liquid silver though, Patrick appeared in another teeny, tiny film in 1990 simply known as [easyazon-link asin="B00ANGID14″]Die Hard[/easyazon-link]. Patrick resurrected his T-1000 role for a special appearance in [easyazon-link asin="B000MGBSJE"]Wayne's World[/easyazon-link] in 1992, and then again for [easyazon-link asin="B002V9PEU4″]Last Action Hero[/easyazon-link]. The T-1000 would show up in Terminator 2: 3-D, Battle Across Time at Universal Studios, and in the [easyazon-link asin="B00002ST7M"]Terminator 2: Judgement Day[/easyazon-link] video game before finally dissolving into retirement for good.
Aside from the deadly mechanical role Patrick has appeared in many television shows, including The Outer Limits, The Sopranos, The X-Files, Stargate Atlantis, Lost, The Unit, NCIS, Psych, Chuck, Burn Notice and more recently, Last Resort.
Robert's film credits are equally as long, including popular films such as Asylum, Walk the Line, Balls of Fury, Elvis, Bridge to Terabithia, The Men Who Stare at Goats, Trouble with the Curve and Gangster Squad.
What's your favorite Robert Patrick role?