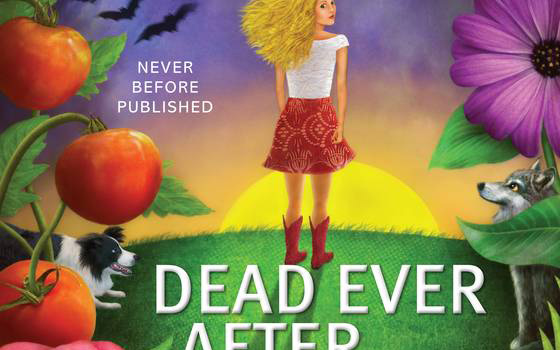 SPOILERS: Sneak Peek at DEAD EVER AFTER {UPDATED}
|
As we count down the days until the release of Dead Ever After, we're getting antsy for news – any news! – about the book. Reader KayCee4711 was able to access the prologue and first chapter via Dutch iTunes (yay for international fans!) and shared some teasers with us.
WARNING! SPOILERS AHEAD!
Copley Carmichael and his chauffeur Tyrese sell their soul to the Devil. Tyrese gets what he wants, but pays a grave price. Copley gets tricked by the Devil and doesn't get what he wants. He asked the Devil to look for the Cluviel-dor. The Devil finds it, but he cannot take it since it's already been used by Sookie to save Sam. Copley gets mad that the Devil tricked him and asks him to get rid of Sookie. The Devil doesn't comply and Copley gets even madder – and a certain round bellied gentleman noticed him. Maybe Mr. Cataliades?

There's a short scene where a medium-sized man meets up with a certain Christian man – maybe Steve Newlin and the Devil? 

Chapter 1 starts off with Sookie waking up and Sam lying on a chaise lounge in her backyard. He seems confused and not entirely himself. It is implied that this could be the cost of the cluviel-dor – maybe he lost a part of his personality or maybe his twoey-nature?

Sookie's garden is in full bloom – hence the cover of the book. Why this is so important or relevant isn't explained. 

Last part of chapter one is about a red-haired female coming out of jail – Arlene? – and being approached by the medium-sized man (a.k.a. the Devil?)

No mention of Eric in these first bits – just this sentence "I waited to hear… from anyone. But the phone didn't ring. I heard a lot of nothing. I had a lot of nothing." And because Sookie's garden is in full bloom, she put a bouquet in every room in her house, on Gran's grave, and on Bill's porch.
Thanks, KayCee4711! Dead Ever After arrives in bookstores Tuesday, May 7.
Updated 04.23.13: Penguin has now posted the entire prologue on their site. Proceed at your own risk!