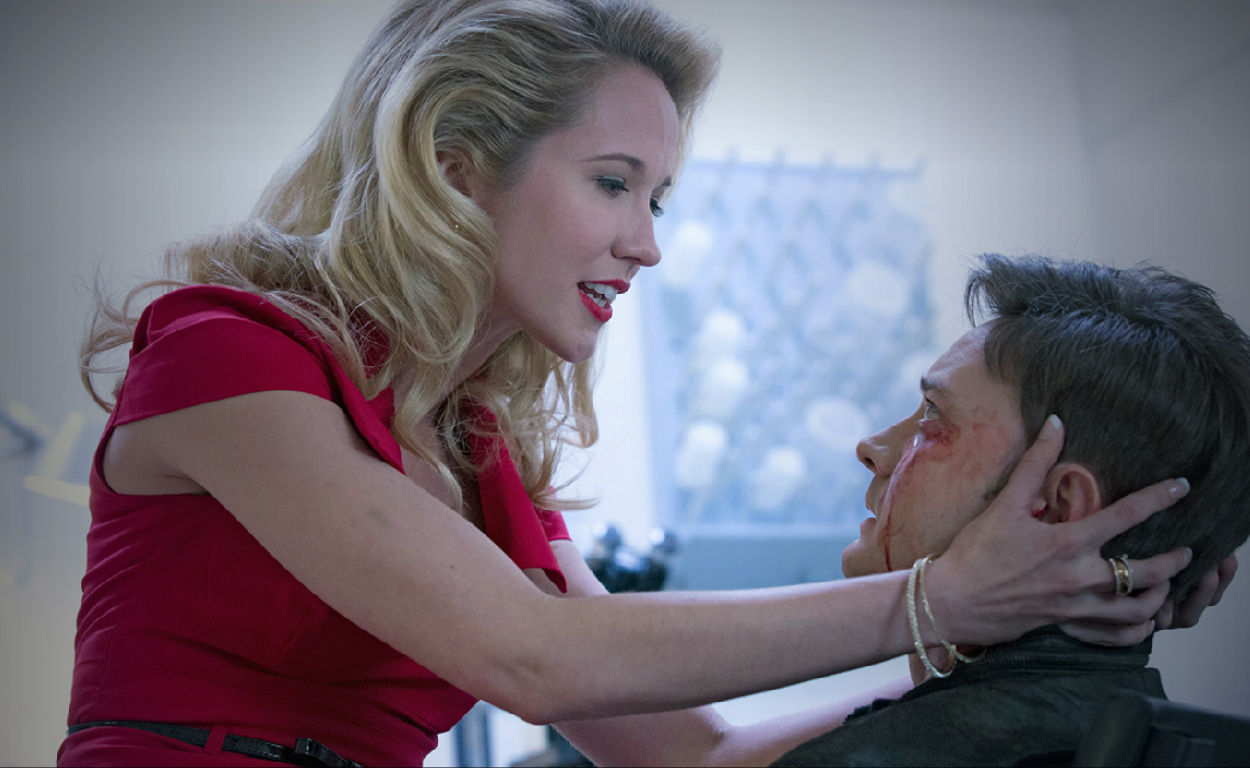 Anna Camp Talks Sarah Newlin's (Possibly Lethal) Return
|
Vulture has a fantastic interview with Anna Camp about her return to True Blood as Sarah Newlin. Anna talks about coming back on set after nearly four years, what Sarah's been up to in the meantime, a possibly lethal wardrobe item, and so much more!
What was it like being back on set, to get to come back and become one of the villains this season?
There are so many supernaturals on the show, which is fascinating — the faeries, the vampires, the werewolves — but it also boils down to how the human beings are relating to the vampire world. The vampires can symbolize any outcast in our society, and there is an epic human versus vampire battle this season, and Sarah Newlin is fighting right along with the humans. She's a woman who is very steadfast in her beliefs, and that can be scary, people who refuse to change, who refuse to open up their hearts and minds to differences in the world. So she's scarier. She's getting scarier by the minute. She's very dark. She's really crazy and vindictive. It gets really juicy.

She said she's gotten into politics?
She might run in the same circles as Governor Truman Burrell. I think she's really trying to out-shadow her ex-husband, and she's taking control of her life, and really wants to take back the power. [Laughs.] She's in power suits! That red dress, I was so stoked when I saw it. And Sarah Newlin's hair is such a part of my character; I just wanted to make sure she came back with it bigger than ever. I get in and I sit in rollers for about three hours in my trailer, and then they tease it out and make it really huge. The higher the hair, the closer to God! For one of the scenes, I got to pick whether she was wearing a cross or an American flag pin, like a sparkly pin. I was like, "You know what? I think she's graduated. I think she'd go for the American flag pin right now."

What's the deal with her spiky heels? They look like they could be a weapon.
Ding ding ding! They could be! A high heel can have a very meaningful job in a certain scene. [Giggles.] It's very Sarah Newlin. She may not be good with stakes or guns, but she knows how to work a high heel. And this is the first season where you get to see Sarah Newlin in a room with a vampire, and how she is confronted with everything she abhors, and how she reacts is pretty great. Sarah's a badass. She's more of a badass this season than I even expected her to be.
We're so glad you're back, Anna! Kick some butt!