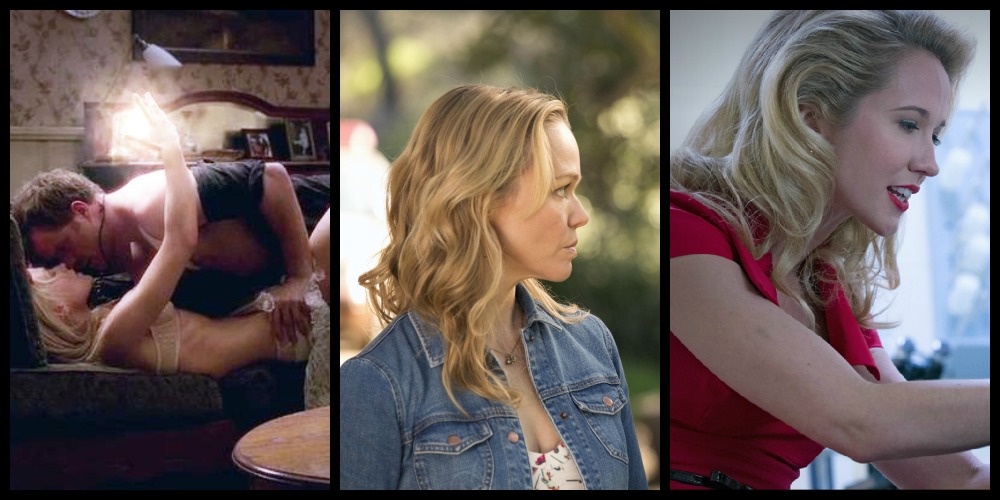 Fashion Q&A: Sookie's Frillies, Sarah's Power Dress, Holly's Flight of Fancy
|
From lace to leather to birds, this week's True Blood fashion column is all about women wearing clothes in empowering situations. Sookie executed her plan to trap Ben/Warlow in sexy lace; Sarah let Steve know who was in control in fire engine red; and Holly got a lesson that will likely come in handy while wearing birds. Here are your fashion questions and Costume Designer Audrey Fisher's answers!
Q. I really want to know the brand of the lacy pink / peach bra Sookie was wearing in tonight's episode when she had Ben over for dinner. I thought it was really pretty! Thanks if you guys can help! – Linda
A. Sookie certainly opted to catch flies with honey in this gorgeous lingerie, and you all sat up and took notice! We had a lot of queries about her lovely frillies. For this pivotal part of Sookie's plan, Audrey chose palest peach to complement Anna's gorgeous skin, with the bra and knickers coming from Agent Provocateur and a sheer shorty robe (similar) from Jonquil's exquisite collection.
Q. I loved having Sarah Newlin back, and her fire engine red dress was stunning! Where can I find it? – Jamie
A. Talk about a power color! Sarah strutted back into Steve's life (and ours) looking ready to get her revenge in a sharp, sexy red dress from Black Halo, but Audrey added a bit of femininity by accessorizing with a sweet black leather bow belt from Nordstrom. Just promise me that if you copy her look, you'll tone down the hair a bit. Save the ozone layer!
Q. Holly's shirt was pretty much hidden by her jacket in the scene where Andy takes her target shooting, but I think it had birds on it. I'm obsessed with birds on clothes! Can Audrey help me out here? – Amelia
A. She certainly can: that is indeed a shirt with birds on it! Audrey identified it as part of a previous collection from Urban Outfitters Ecote. Unfortunately it's long gone from stores, but the bird trend doesn't show any signs of slowing down, so lots of options are available. This one from Wallis would look adorable with a denim jacket, and how cute is this "birds on a wire" tank from The Limited? If you'd rather have a bird print on your body at all times, I'm currently lusting after this printed scarf.
Do you have a True Blood style question? Drop us a line or leave a comment and we'll work with Audrey Fisher to track it down for you. Please note: we are only answering questions about items worn during season 6 at this time.