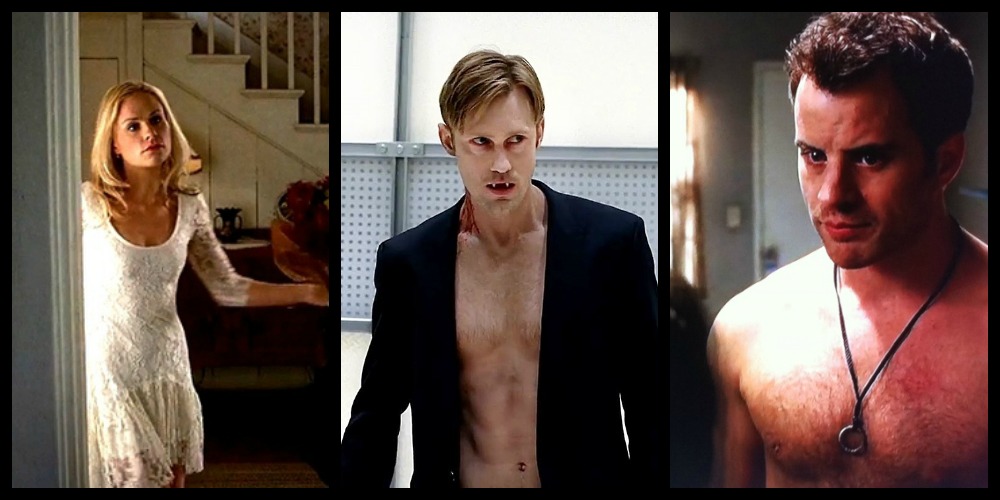 True Blood Fashion Q&A: Sookie's Lace Dress, Eric's Suit, Warlow's Necklace
|
From a potential wedding outfit to giving us a reason to post photos of shirtless vampires, the True Blood fashion column is never dull! This week Costume Designer Audrey Fisher answers your questions about Sookie's lace dress, Eric's suit, and Warlow's necklace.
Q. I NEED the ivory dress that Sookie wore on episode 6.04 when having dinner with Ben (Warlow). I am getting married in May and it's perfect for my special day. Please, please, please help!! – Amanda
A. Congratulations on the impending nuptials, Amanda! We had a lot of queries about Sookie's lace dress, but yours was certainly the most urgent. Audrey picked up the dress at Urban Outfitters, as part of the Ecote collection, but it's just recently sold out. Sorry for the bad news. Here's an alternative from Staring At Stars that might suit – lace, long sleeves, a little Boho.
Q. Just wondering which suit designer Eric is wearing in the Episode "F**k the Pain away." Thank for in advance for any info you can provide me. – Jessica L.
A. I'm on to you, Jessica. You just wanted me to post a photo of Eric in that suit without a shirt. I think we should all give Audrey a round of applause for that particular costuming decision, don't you? She went with the tried and true for that scene – Hugo Boss. Any time Eric is in a suit, you can bet it's from Boss.
Q. What is the necklace Ben/Warlow wears? – Whit
A. Another chance to post a shirtless photo! Well played, Whit. The piece is by L.A. based jewelry designer M. Cohen. Audrey picked up the brass and leather necklace at his store on 3rd near La Cienega in LA, but you can purchase it online here.
Do you have a burning question about the costumes you see on True Blood? Send it to us (season 6 only, please), and we'll work with Audrey Fisher to track it down!