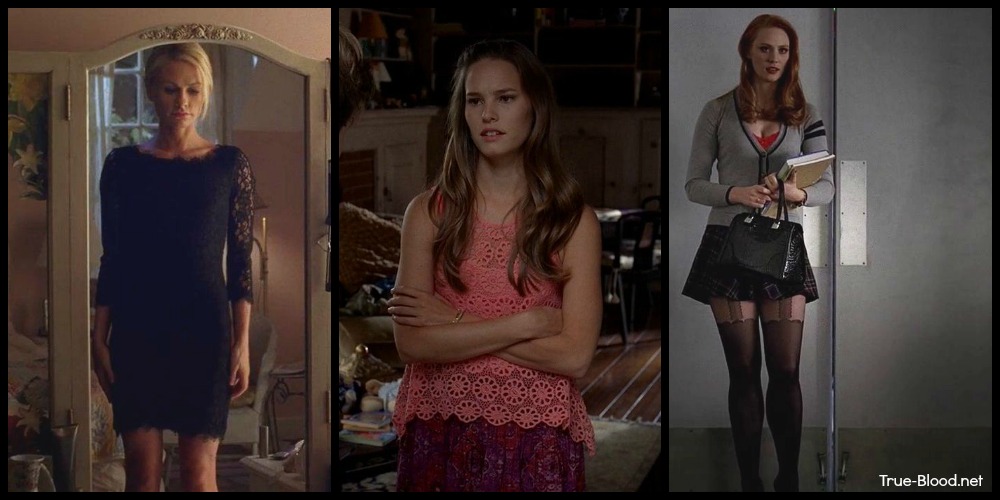 True Blood Fashion: Sookie's Black Lace, Adilyn's Pink Lace, Jessica's Schoolgirl Purse
|
It's not often than a single episode generates so many fashion queries, but True Blood 6.08, "Dead Meat", did just that! We're still tracking down a few items, but in the meantime, we have the scoop on two of Costume Designer Audrey Fisher's awesome choices for the episode, plus the answer to a question from a few weeks ago. Get your True Blood fashion here!
Q. Where is Sookie's black lace dress from? The one she puts on to take Bill to see Warlow in "Dead Meat". – Elissa
A. The stunning look Audrey chose for Sookie's thwarted self-sacrifice, and what she wears to Terry's funeral in the next episode, is the Zarita dress by Diane Von Furstenberg. It's currently available at Shop Bop, Bloomingdale's, and Nordstrom in a variety of colors in addition to Sookie's funereal black. UK fans, find it at Selfridges.
Q. I thought Adilyn-Braelyn-Charlaine-Danica's (!) pink lace top she was wearing while, um, spending time with Holly's boys was really cute. Any idea where it's from? – Jasmine
A. Audrey stuck with a winner for ABCD's clandestine outing gone bad – Urban Outfitter's. The top is the Pins and Needles Daisy lace swing tank top in pink (available in other colors), and her skirt is the Ecote Eudora smocked waist skirt in red multi (also in black). Promise you won't wear the outfit to go drinking with boys in cemeteries, OK?
Q. Can you please, please, please find out who makes the bag that Jessica carried when she had on her naughty schoolgirl outfit? – LJ
A.  I love it when our vampires accessorize. I mean, what could they need a bag for? Audrey gave Jessica a Jessica Simpson bag (Jessica for Jessica!) that she picked up last year, so it's no longer available. It's such a classic look, though, I wouldn't be surprised if it was offered again. In the meantime, here are a couple of alternatives: Imoshion Maya bag, Love Moschino bowling bag
Shop This Post
Do you have a True Blood style question? Drop us a line or leave a comment and we'll work with Audrey Fisher to track it down for you. Please note: we are only answering questions about items worn during season 6 at this time.