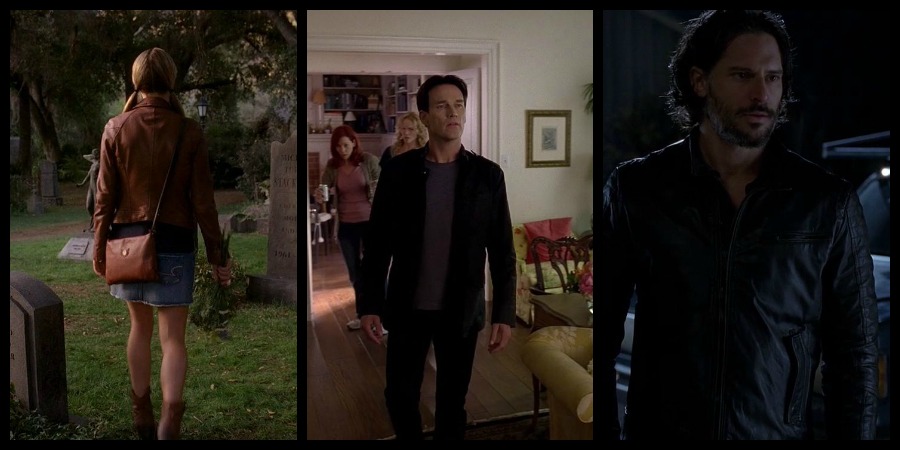 True Blood Fashion: Sookie's Leather & Denim, Bill's Jacket, Alcide's Leather
|
It's leather jacket time! The last 3 seasons of True Blood have taken place in the autumn (October-November), which means the characters have worn some gorgeous outerwear. In this week's True Blood fashion column, Audrey Fisher answers your questions about coats worn by Sookie, Bill, and Alcide, plus provides further details about Sookie's much asked about wear-to-your-parents-graves-to-curse-them-for-trying-to-kill-you outfit.
Q. What kind of purse was Sookie wearing in Sunday's (8/4) episode? The brown cross body? – Roberta
Q. I would like to know where to get the awesome brown jacket that Sookie is wearing when she goes to visit her parents graves and Bill. Thanks! – Tracy
Q. True Blood season 6 episode 8 – Sookie is wearing cowboy boots with pigtails and a leather jacket. What are the cowboy boots? They look a bit taller than the short Frye boots she wore in an earlier episode… Thank you! – YR
A. I had a feeling that outfit was going to make an impression; it certainly was cute and I loved the pigtails to complete the look. Audrey pulled together that look from Sookie's closet, for the most part. "I'm trying to keep it real when I can!" she says. The leather jacket is by Madewell from season 4, so it's long gone. However,  Saks Fifth Avenue has one in a similar cut and color from Mackage right now. The denim mini is also from Sookie's closet, purchased from American Eagle "a while back, so it's not new," says Audrey. The boots are the Frye Taylor boots in cognac that she's worn before. (Currently available in other colors.) The purse is the only new item, and it's the gorgeous Whisky Concert Clutch by COPPERPEACE, worn with the strap. If any of you were wondering what to get me for Christmas, that purse is it!
Q. When Bill walks into the Bellefleur home in the day time, he's wearing a black jacket. What is that and where does it come from? Also, is this the same jacket he was wearing in the dream scene with he and Eric with Sookie (when she decided she loves them both). – Cerise
A. I was all set to tell that was the same jacket, Cerise, but Audrey sets us both straight: "Bill's black leather Varvatos USA jacket is actually new! Just a familiar and good look on him." I'll say! Here's a similar style by Varvatos currently available.
Q. Who makes Alcide's leather jacket? – Ercan
A. Alcide is wearing a dark brown leather jacket by INC International Concepts this season. Unfortunately, it was purchased last winter and is not currently available, but keep an eye out at your local Macy's for similar styles this autumn, or check out this version by Kenneth Cole, also at Macy's.
Do you have a burning fashion question for True Blood season 6? Drop us a line and we'll try to track down the source! Please note, we are only taking questions for season 6. If you have a question about an item worn in a previous season, take a look at our archives.