Where Are They Now? Remembering the Fallen of True Blood – Season 5
|
Continuing our 6-part series on the fallen of True Blood, we move into season 5. We know that the cast and crew of the show have a "death wall" where they remember all the fallen characters from past seasons to current. It prompted this season-by-season, bi-weekly series culminating in all the dead, undead and gone from season 6.
[divider]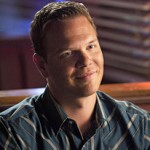 Jim Parrack (Hoyt Fortenberry): Having left Bon Temps, sans memories of his relationships with Jessica and Jason, Jim headed to films such as Child of God and A Night in Old Mexico. He has also returned to his theater roots where he has acted in and directed various plays. Keep your eyes open for Jim Parrack sightings on other projects as well! Follow Jim on Twitter @Parrack120 for updates.
John Billingsley (Mike Spencer): The coroner-turned-vampire met his true death in season 5 of True Blood, but John's career has been anything but dead since then. His television appearances include Women's Murder Club, Scrubs, The Mentalist, Leverage, Suits, Revenge, Drop Dead Diva and Grey's Anatomy. John has appeared in films such as The Least of These and Trade of Innocents, and the soon to be released Red Line. Watch for John in the upcoming action/adventure series Intelligence on CBS.
Christopher Meloni (Roman Zimojic): What a shock it was when Roman was staked by Russell Edgington. I thought he'd have a much longer run on True Blood but it wasn't meant to be. That's alright though because Chris went on to do other projects, including the huge summer box office hit, Man of Steel. Chris has no less than four other projects coming up within the next year, so he's keeping busy.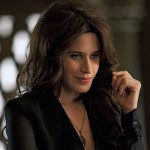 Valentina Cervi (Salome Agrippa): After more than 2000 years Salome finally met her true death at the hands of a 200 year-old vampire. However Valentina is still very popular in Italian TV and film, and I feel sure we will see her once again on American silver screens.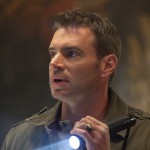 Scott Foley (Patrick Devins): Scott Foley already had a following when he came to visit Bon Temps from his roles on Grey's Anatomy and Cougartown. Leaving True Blood opened a door to one of the best written television series today, Scandal. We'll see Scott again in the upcoming season of Scandal. Scott also had a leading role in the Fox mid-season series The Goodwin Games. He's in demand kids so keep a watch out for him!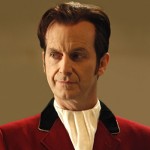 Denis O'Hare (Russell Edgington): Denis played the part of Russell so well that instead of people being totally turned off by him, we hated to see him go. He was supposed to be such a baddie and he did it good. But fear not Truebies, Denis will be back on American Horror Story, plus he has four projects coming up before the end of 2014. We also saw him in The Good Wife and he's been busy on stage as well.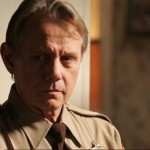 William Sanderson (Bud Dearborn): Bud actually left True Blood twice and in between seasons Sanderson worked on Criminal Minds: Suspect Behavior, Mike & Molly, Bar Karma and Bones. He was also in an episode of the webseries Bravest Warriors. You never know where Sanderson will show up next!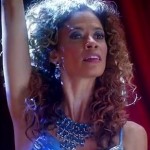 Erica Gimpel (Fairy Elder): Erica's Fairy Elder role was so short that if you blinked, you missed her. But she's been keeping busy on shows such as Cult, Rizzoli & Isles, Criminal Minds and Nikita. This talented lady still has a lot going on. What do you think, Truebies? For or against?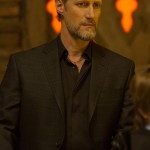 Christopher Heyerdahl (Dieter Braun): After Dieter met the true death, Christopher Heyerdahl kept busy with appearances on Castle, Nikita, Vegas, Falling Skies, CSI, and finished off his role on Hell on Wheels as "The Swede". He has three projects coming up, one is currently being filmed and as yet is untitled. Soon to be released are Three Days in Havana and The Calling.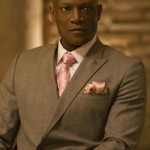 Peter Mensah (Kibwe Akinjide): After True Blood Peter made one more appearance on Spartacus: War of the Damned as Oenomaus. He guest starred on Burn Notice and lends his voice as Predaking on the animated TV series Transformers Prime. That's all we know for now but keep your ears to the ground! You never know where Mensak will next appear.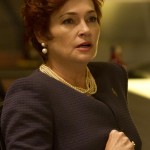 Carolyn Hennesey (Rosalyn Harris): Rosalyn was one of the last Authority members to be killed off the show, but Carolyn returned to daytime soaper General Hospital after a stop at The Middle and Anger Management.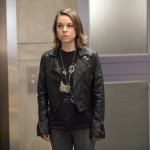 Tina Majorino (Molly): Everyone loved Molly on True Blood. Though we hated to see her go, Tina had a recurring role on Grey's Anatomy. More recently, Tina delighted Veronica Mars fans (including us!) when she reprised her role as Mac for the upcoming Veronica Mars Movie, which is due out in 2014. Tina also just finished filming a TV movie with Sean Bean and Ali Larter titled Legends. No word on when that will air.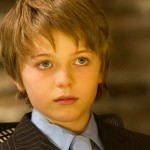 Jacob Hopkins (Alexander Drew): Alexander was the first Authority member to die at the hands of Roman, much to our surprise. Jacob appeared on the short-lived Animal Practice and Supermoms, and you'll find him in the short film Sunchild which released this summer. He's young and talented so we'll be looking out for him in the future.
That'll do it for season 5! Let us know if you hear of a new project starring one of these fallen, that we should be watching out for in the comments below.
For previous seasons in our series click on these links:
Where Are They Now? – Season 4
Where Are They Now? – Season 3
Where Are They Now? – Season 2
Where Are They Now? – Season 1