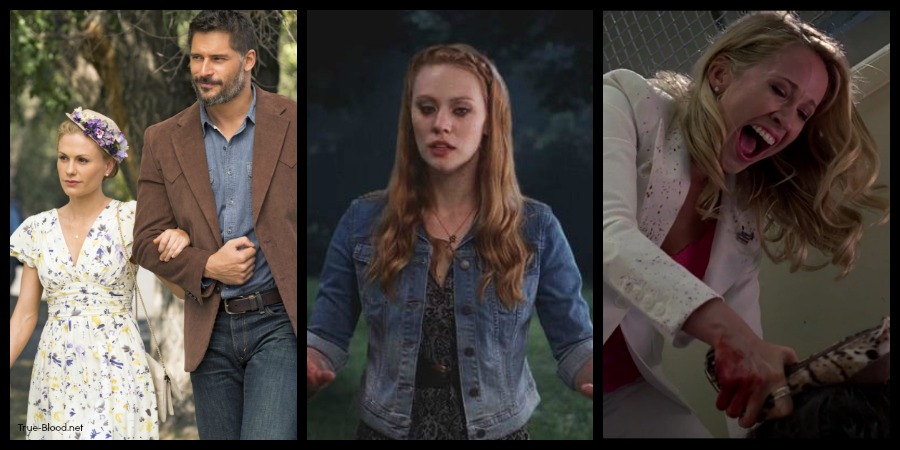 True Blood Fashion: Sookie's Sunday Best, Jessica's Jacket, Sarah's Murderous Whites
|
That's a wrap on True Blood season 6, but we still have your fashion questions to answer! This week Costume Designer Audrey Fisher shares the scoop on Sookie's Sunday best, where to find Jessica's ombre jacket, and how many white suits that Sarah Newlin fight scene required.
Q. Can you tell me who makes the dress Sookie wore to church in the last episode? And where did she get the matching hat? – Jenn
A. We had a ton of emails about this outfit, and rightfully so – it's adorable! The dress is by McGinn from a couple of years ago; Audrey's kept it in "Sookie's closet" just waiting for the right opportunity to use it.
That precious hat has a much more dramatic story, however. Here's Audrey's recount:
That hat was a beautiful custom-made darling by my friend Lola Ehrlich of Lola Hats in NYC…which (no joke) tragically got destroyed the NIGHT before the scene shot.
So…that morning my amazing team scrambled to find a solution, and luckily the costume Gods were on our side! By sheer luck of the draw, the talented local hat-makers of Louise Green Millinery were able to make a beautiful hat that very morning that was inspired by Lola's original chapeau but became its own new creation, graced by Louise's magical touch, and that's what you see on camera.
So I really have to shout out to both milliners as it was double duty: Lola Hats made the first hat, which was tragicomically lost the night before; and Louise Green saved the day by making the lovely hat that you saw on Sookie's head!
What a day that was!!!! Best costume drama of the season for sure.
Q. Hi! The denim jacket Jessica was wearing in the finale LOVE IT!! I'm totally obsessed with getting it. Any idea where I can get it? – Susan
A. That ombre effect is pretty cool, Susan, and perfect for transitioning summer dresses into autumn. The jacket is by Jessica Simpson, from her Juniors collection, available at Macy's in the US and the UK (we love you, UK Truebies!)
Q. The fight scene between Sarah Newlin and Ms. Suzuki was EPIC! And I loved that Sarah was wearing a pure white suit during the whole thing. Who makes the suit, and those "killer" heels? – Elissa
A. "Killer" heels – I see what you did there. 😉 The white pantsuit is by Anne Klein and the leopard print heels are by Vince Camuto leopard. Audrey added the gold ankle strap to the heels to accommodate all those crazy stunts, and reports that she bought 10 of those suits and around 12 pairs of that shoe for Anna, her stunt double, etc. Epic indeed!
Do you have a burning fashion question for True Blood season 6? Drop us a line and we'll try to track down the source! Please note, we are only taking questions for season 6. If you have a question about an item worn in a previous season, take a look at our archives.