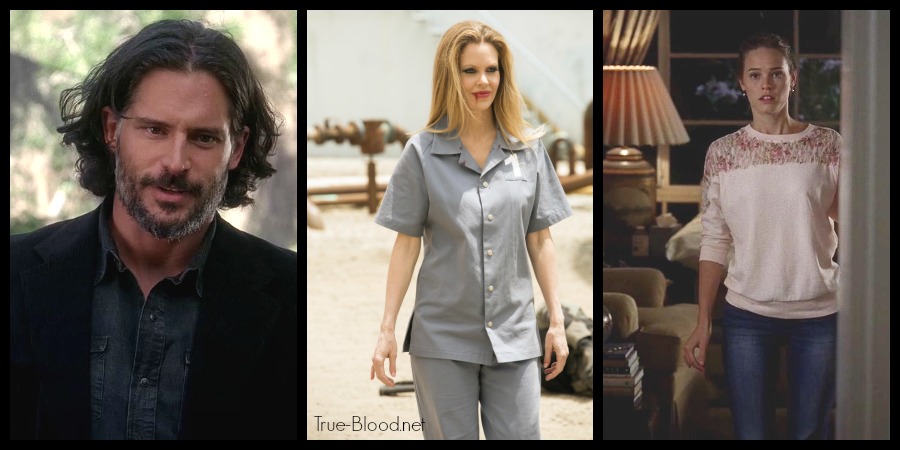 True Blood Fashion: Alcide's Sunday Best, Vamp Camp Uniforms, Adilyn's Sweatshirt
|
In this week's True Blood Costume Designer Audrey Fisher answers your questions about a sharp-dressed man, vampire prison garb, and a sweet sweatshirt.
Q. In the season 6 season finale, Alcide rocked 2 suit jacket and shirt combos (at the funeral and at church) and shirt and leather jacket combo (at Bellefleur's at the end of the episode). Can you help a tall guy out with some info? What where the brands of those clothes? – R.M.
A. Alcide looked pretty darn good in the season finale. As if Joe Manganiello could look bad, but he looked extra sharp in his denim and blazers. The corduroy blazers he wore are from Circle S, available at Western wear stores like Boot Barn. Audrey says they were "altered to within an inch of their lives," so if you're looking for an exceptional fit like Alcide's, you might want to invest in a bit of tailoring. His funeral and church shirts were from Ralph Lauren Denim & Supply, in a vintage blue and vintage black wash.
Q. Hello, it may be silly but I'm actually trying to track down the grey camp outfit all the prisoners wear. It looks like some sort of Nick and Nora pajama. Any help would be appreciated. 🙂 – Sara
A. Sara, your "silly" question turned up another neat behind-the-scenes story from Audrey:
The uniforms are custom, 'cuz of the numbers we needed for both cast and background for the whole season; plus we wanted WAY better quality (cut, fabric, everything) uniforms for our darling cast than what is available out there. Also wanted to choose the most flattering but prison-y color for something the cast would wear for most of the season…and that steel blue-grey was where we landed. So we went with the tone that matched Skarsgard's eyes and called it a day. Sort of joking, sort of not.
Q. Where is Adilyn's pink shirt from in the season 6 finale when Jessica goes to their house to offer protection? Love it!!! – Kate
A. Adilyn's pretty sweatshirt is actually peach, although it reads more pink on camera. Audrey picked it up at Forever 21 last season, so it's out of stock now. However, there are a couple of alternatives available now: the Lace Yoke Sweatshirt and the Heathered French Terry Sweatshirt.
Do you have a burning fashion question for True Blood season 6? Drop us a line and we'll try to track down the source! Please note, we are only taking questions for season 6. If you have a question about an item worn in a previous season, take a look at our archives.