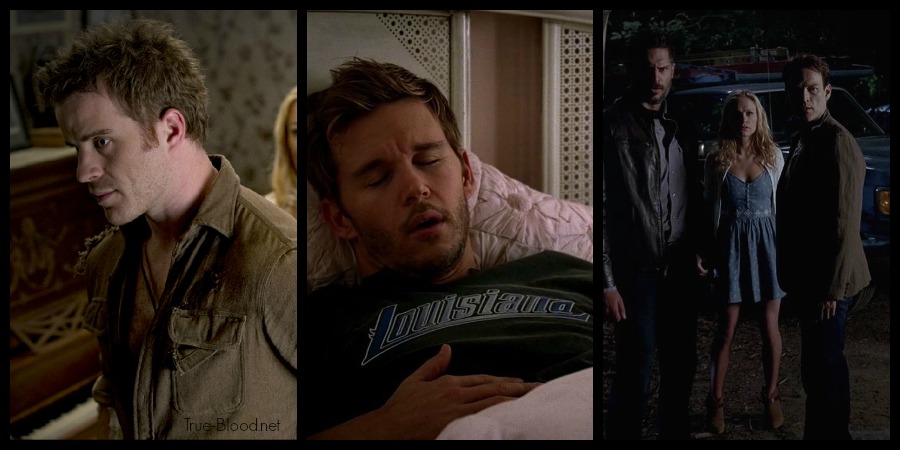 True Blood Fashion: Warlow's Western Shirt, Jason's Louisiana Pride, Sookie's Blue Sundress
|
We're nearing the end of our True Blood season 6 fashion columns now, having cleared out most of the queries from you all. A thousand thanks to Costume Designer Audrey Fisher for taking the time to hunt up the answers to fan questions and give us some behind-the-scenes scoop in the bargain. This week we're tracking down items worn by Warlow, Jason, and Sookie.
Q. What is that dark green shirt that Warlow is wearing in season 6 episode 4? – Eddy
A. Warlow ended up wearing that same shirt for the rest of the season, so it's a good thing he looked great in it! Audrey chose a Western snap shirt from Ryan Michael for Warlow's scenes. That particular shirt is the Remington style from the Fall 2012, a cotton-silk blend in Gunmetal (it looked green to me, too!). The Clanton from the Fall 2013 is a similar shirt.
Q. Hi there, I wanted to know where I could find Jason Stackhouse's Louisiana T Shirt worn in Season 6 Episode 3? Really appreciated. – Ali
A. That's a one-of-a-kind Audrey Fisher original! That's right, Audrey made that shirt especially for Jason. There's a chance it could turn up for sale in the HBO Shop in the future, so keep your eyes peeled.
Q. Please can you ask Audrey about the gorgeous blue dress (and white cardigan) that Sookie wears at the end of episode 10? I'm really looking forward to seeing the fashions for the next series! Thank you so much. – Hazel
A. Sookie's sweet dress from the final moments of True Blood season 6 is the Kenzie Chambray Denim Dress from Abercrombie & Fitch. Audrey purchased it from the Spring 2013 collection, so it's no longer in stores, but I did see it on eBay recently.  Forever 21 has a similar, very cute sundress on sale right now, or take a peek at this one from SO at Kohl's. I think paired with tights and a cardigan or even a leather jacket, these could transition nicely into autumn.
Do you have a burning fashion question for True Blood season 6? Drop us a line and we'll try to track down the source! Please note, we are only taking questions for season 6. If you have a question about an item worn in a previous season, take a look at our archives.