THROWBACK THURSDAY: AIDS BURGER ANYONE?
|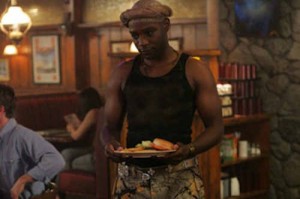 It's Throwback Thursday! Today's special at Merlotte's is a fabulous AIDS burger made by Lafayette. Remember this Epic scene from Season 1? When some homophobic customers came into Merlotte's and said they didn't order a burger with AIDS, Lafayette set them straight  with a double side of sass. He picked up one of the hamburger buns, licked it and told the man to eat it and then punched him. Then said "B**ch you come in my house, you eat my food the way I f***ing make it!" Then he politely reminded them to tip their waitress and gave Jason Stackhouse a high five. CLASSIC! This was the moment I realized Lafayette would be a fan favorite!
Did you love this scene? Let me know your favorite quote in the comment section below!