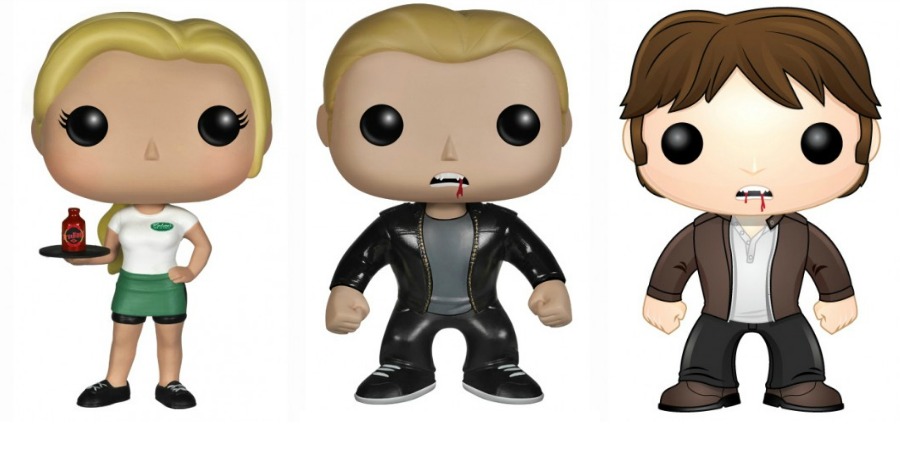 HBO Introduces True Blood Pop! Figurines {UPDATED}
|
UPDATED 08.09.14: The POP! figurines are now shipping!
CUTE ALERT!
HBO announced yesterday, via Zap2It, that they are rolling out a line of True Blood Pop! figurines by Funko in honor of the show's final season.
The vinyl series will feature six of our favorite characters: Sookie Stackhouse, Eric Northman, Alcide Herveaux, Lafayette Reynolds, Pam Swynford De Beaufort and Bill Compton. (If these sell well, maybe we'll get a second series with Jason, Jessica, Arlene, etc.)
The initial announcement said that the figurines would be available in July, but currently the HBO Shop has shipping dates of August 11 listed for all of them. We suspect a limited number will be on sale at Comic Con at the end of July; we'll keep you posted on that.
The True Blood Pop! Vinyl Figurines will stand 3.75 inches tall and come out in a window display box. They are available to pre-order on the HBO Shop, and also will be sold nationwide at Barnes & Noble Booksellers, Toys R Us, Hot Topic, Target, Walmart, 7-Eleven, Amazon.com and at specialty toy retailers.
Click an image below to be taken to the HBO Shop.
UPDATED 08.09.14: The POP! figurines are now shipping!
Note: links to the HBO Store are affiliate links. If you purchase items via those links, True-Blood.net receives a small percentage of thee cost which is used for hosting fees and site upgrades.