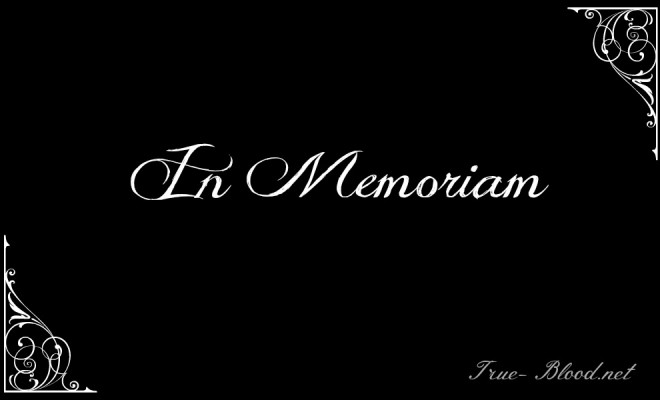 In Memoriam: Saying Goodbye to [SPOILER]
|
WARNING: SPOILERS AHEAD!
Last season we said a tearful goodbye to Terry Bellefeur when he was gunned down outside the back door of Merlotte's. It was hard to watch and harder to accept, and we all cried with Arlene. Before that we wept with Jessica as she wiped Hoyt's memories of her and Jason so he didn't have to endure the pain of losing his best friend and the girl he loved. Then he simply left Bon Temps, never to return.
We've lost quite a few favorites over the last six seasons, some we were glad to finally be rid of, others we wished we had more time with. But this most recent death is a bittersweet one, and it will be felt for the rest of the season.
Fans were split on how they felt about Tara. Some really weren't interested in her story or what happened to her. Others, like Mel and I, wish we had seen so much more from Tara, especially after she was turned vampire by Pam at the request of Sookie and Lafayette, who just couldn't let her go after she took a bullet meant for Sookie. She made the ultimate sacrifice for her friend. I wonder how many of us would do that for someone we loved. It's a hard choice to make but Tara made it without thinking twice.
Sookie and Lafayette cannot bring Tara back this time, though. As we grieve with them, we've put together some of our favorite Tara moments and Tara-isms from the past years. We hope you enjoy them. Add your condolences in the comments below.
Photo gallery
Tara-isms
"I only go off on stupid people. "
"I'm an excellent driver. But you can not prepare for a naked lady and a hog in the middle of the road!  "
"Giving vampire blood to Jason Stackhouse is like giving ho-hos to a diabetic."
"It's been a while since I've been attacked by a vampire, and guess what, it still sucks."
"If you die I'm gonna be really pissed."
"Isn't that funny a black girl being named after a plantation. No I don't think it's funny at all."
What are your favorite memories of Tara?