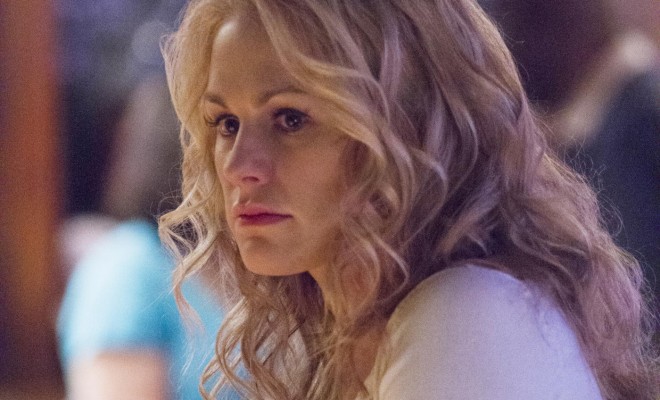 Tonight On True Blood: "Jesus Gonna Be Here" {Live Chat}
|
Here we go, Truebies! The final season of True Blood has arrived! When we last saw our friends in Bon Temps, they were about to be descended upon by a band of marauding, Hep-V infected vampires. Dun dun dunnnnnn. Who will survive the initial attack? And where in the world is Eric?
A band of rogue H-vamps crashes the vampire-human mixer at Bellefleur's, with shocking results. As Sookie (Anna Paquin) seeks refuge from accusations that she's somehow to blame for the chaos in Bon Temps, the "one vampire for every human" plan moves forward. In the face of a vigilante insurrection led by redneck Vince (Brett Rickaby), Bill (Stephen Moyer) receives aid from an unexpected source.

Written by Angela Robinson; directed by Stephen Moyer
"Jesus Gonna Be Here" premieres tonight at 9/8c on HBO. We will be hosting our live chat (see below) this evening beginning at 8:45/7:45c, so be sure to join us! In the meantime, as we count down the hours, here are some things you may have missed:
Live Chat
Joining us for our weekly live chat? Welcome! We'd love to have you participate, so please set up an account (click Profile below the text box in the chat window*), verify your account, login, and chat with us!
*Some of you have emailed saying you can't find the "profile" link to click. Here's a screencap for you: