SPOILERS: Breaking Down the True Blood Preview
|
HBO released a preview for "the weeks ahead" after the conclusion of the season 7 premiere, giving us a LOT of material to work with as we speculate what's coming up in the final season. Based on previous multi-episode previews, we're guessing this takes us to episode 7.04 or possibly 7.05. Let's break it down…
WARNING: SPOILERS AHEAD!
The dead woman Sookie stumbled across in the woods is identified as Mary Beth Grant from St. Alice (pronounced Saint Elise), a nearby parish. Sookie, Alcide, Sam, Andy and Jason take a field trip to obtain more information and find the town deserted with terrifying pleas for help spray painted on buildings and roads.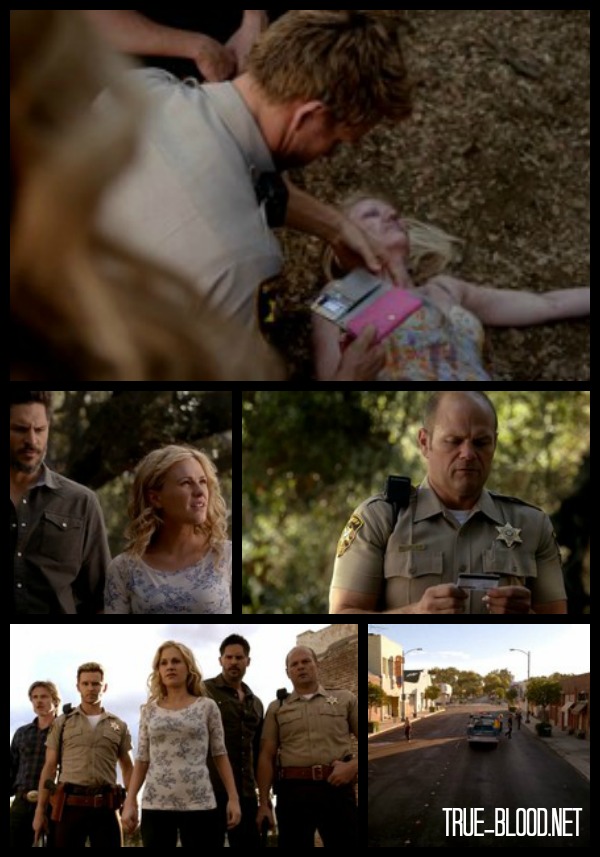 On the way to or from St. Alice, Alcide makes amends with Sookie, telling her that the vampire attacks are not her fault (expect a longer clip from that scene in the truck to be released by the end of the week). Sookie accepts his apology and once they get back to Sookie's house, we get more Sookie/Alcide sexy time.

That's not enough to keep Alcide from going ballistic when Sookie goes to visit Bill in the middle of the night, though. She's there to ask for help (clip 1, clip 2) rescuing those trapped in Fangtasia, but somehow I don't think Alcide is going to appreciate her altruism. It's worth noting that this appears to be Alcide's final scene from the preview, and it occurs in episode 7.02. Liz & I have suspected for awhile now that Alcide doesn't make it through the final season, although we don't think he dies. Is this the end for him?

In the dungeon at Fangtasia, Arlene, Holly, Nicole and Jane Bodehouse remain captive. Arlene has a plan to get them out, which goes awry somehow and Holly tries to protect Nicole from the infected vampires. Instead of killing her, the vampires take Holly outside to meet someone. Possibly whomever whistled and called off the attack at Bellefleur's the night before. We think that someone is Sarah Newlin.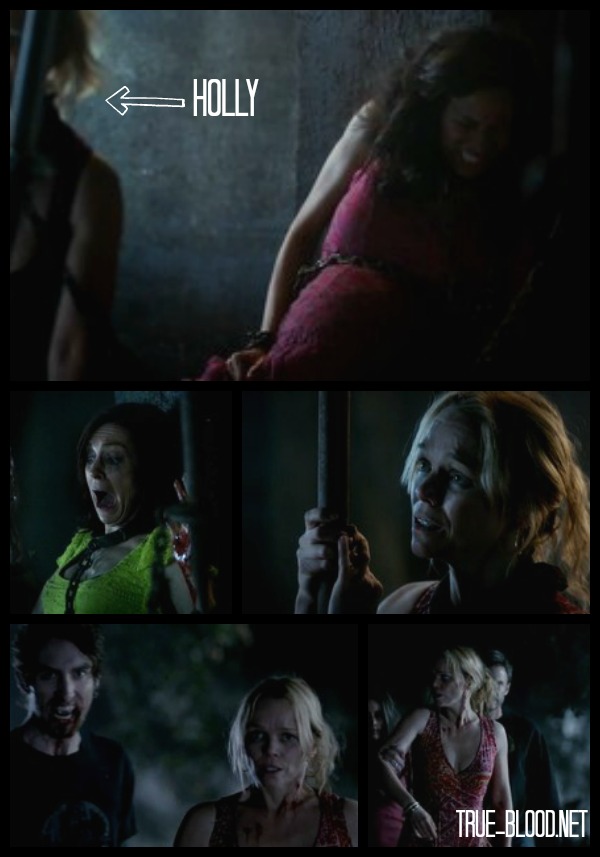 Bill and Sookie do make it to Fangtasia, after Sookie has changed her shirt from the pretty toile print to a red Fangtasia shirt for some reason (throwback to episode 2.03?). We see Bill punch his way through a wall as Sookie watches, and a very distraught Sookie cradling someone who is injured. Our best guess is that she's holding Arlene (green dress) who appears to have suffered at the hands of the Hep-V vampires after whatever plan she had for escape failed. We know Arlene survives because she has a romance storyline beginning in episode 7.04, and we're pretty sure Holly is 'safe' with whomever she's been taken to see, but the fate of Nicole and her baby is unknown. (We've seen some speculation that Nicole goes into labor in the dungeon; if that's the case, at just 6 months pregnant, her prognosis is not good.)
Updated: Reader Natali (below) thinks Sookie is holding a baby in the image where Bill is punching the wall. I couldn't get a clear shot of whatever she's holding, but she is holding it like one would hold a baby. If so, then it doesn't look good for Nicole.
We also see Sookie and Bill having a conversation, probably at Bill's house (white shutters), then Sookie goes in for a hug/comfort from Bill (you can just make out the zipper on his leather jacket).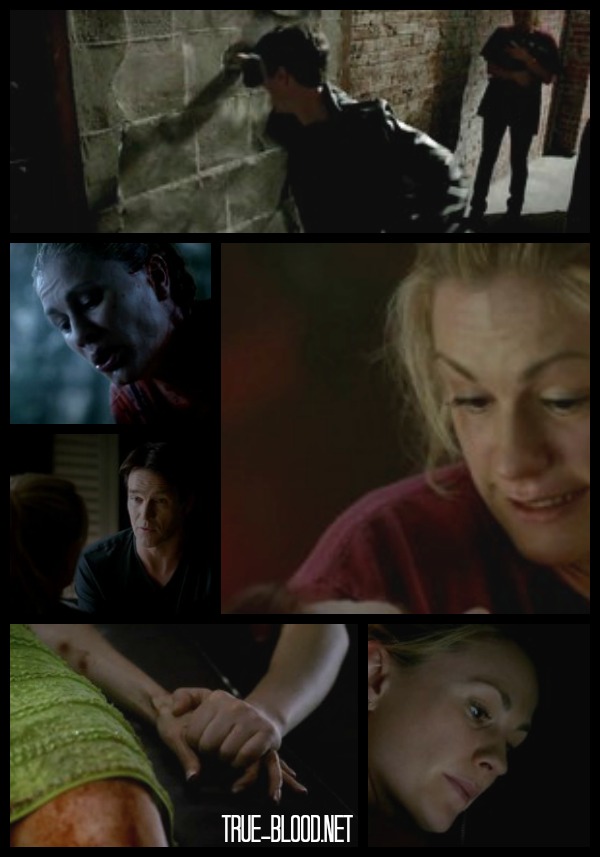 Speaking of seeking comfort, we also see Sookie weeping in the arms of Jessica and Sam on separate occasions. She's devastated about something – another death? Jessica is also upset in their scene, while Sam appears to be more concerned for Sookie than about whatever happened. The latter would seem to mean Nicole is safe (for now), but could Bill be in danger? Are Sookie and Jessica grieving for Tara? Or is Sookie crying about the loss of life she's seen in general?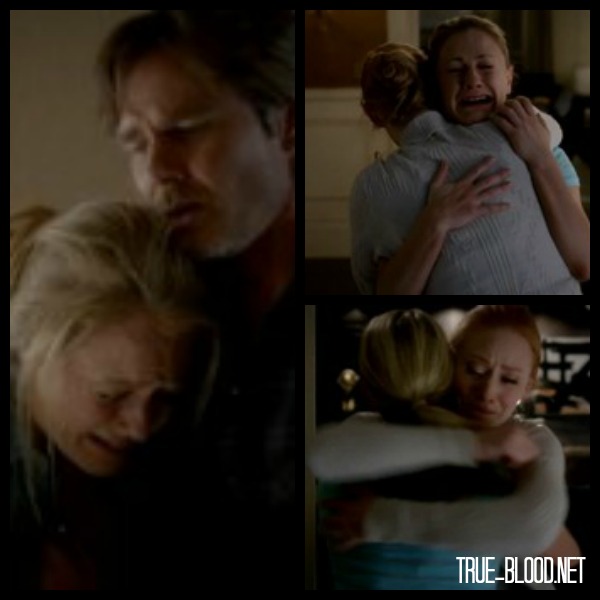 We don't see Eric yet (maybe; see below), but we do get a shot of Pam peeking in a window, throwing a Molotov cocktail, and crying. Is she crying over the death of Tara? Or because she finally found Eric?
Meanwhile, Andy appears to be very unhappy that Jessica is now camping out in his attic with his delicious-smelling daughter in residence, prompting Jessica to attack him. Most likely this is in response to a perceived threat to either Jessica or Adilyn because she does seem to back off and (probably) try to apologize.

Oh, and Adilyn has figured out how to use the faery fire ball, against what looks like Kenya at the Sheriff's Office. Uh oh.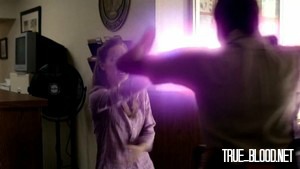 And finally, sometime after Sookie and Bill's rescue attempt, Sookie has a gentle encounter with a very tall man. This could be Alcide saying goodbye, or the return of Eric Northman.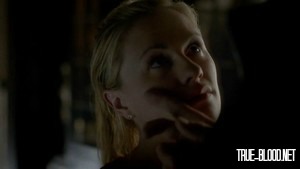 There are other scenes of general mayhem and chaos, a closing hearse door, another Bill and Sookie conversation, etc. that we don't have much context for at the moment, but if you have thoughts, please feel free to share them below!