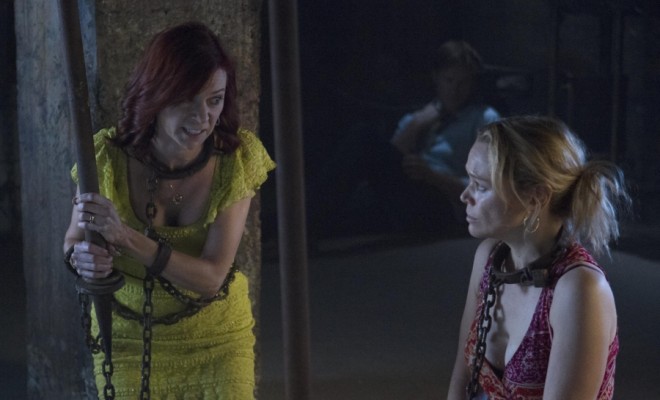 Tonight on True Blood: "I Found You"
|
Is tonight the night? Does Pam finally find Eric so we can quit trying to convince you that Eric isn't dead? Is that what the episode title refers to?
A trio of hostages taken in the Bellefleur's attack looks to a familiar face as a possible liberator from the H-vamps. Sookie and Jason (Ryan Kwanten) visit the neighboring town of Saint Alice, where a young woman's diary offers clues to the potential fate of Bon Temps. Spurned by Lafayette (Nelsan Ellis), a desperate Lettie Mae (Adina Porter) turns to Willa (Amelia Rose Blaire) to channel her family past. Vince whips his fellow vigilantes into a dangerous frenzy. Pam's (Kristin Bauer van Straten) search for her maker leads her to a very familiar place. 

Written by Kate Barnow; directed by Howard Deutch
"I Found You" premieres tonight at 9/8c on HBO. We will be hosting our live chat (see below) this evening beginning at 8:45/7:45c, so be sure to join us! In the meantime, as we count down the hours, here are some things you may have missed:
Live Chat
Joining us for our weekly live chat? Welcome! We'd love to have you participate, so please set up an account (click Profile below the text box in the chat window*), verify your account, login, and chat with us!
*Some of you have emailed saying you can't find the "profile" link to click. Here's a screencap for you: