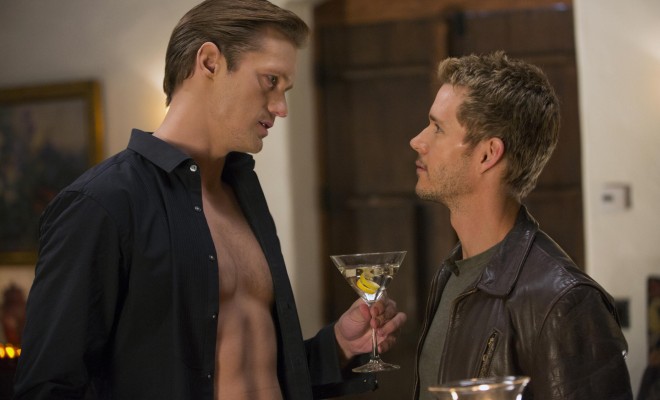 WATCH: Jason and Eric Sexy Times
|
True Blood opened this week's episode with a scene that seems ripped right out of fanfic: Jason tracks down Eric in hiding, Eric is all mysterious, Jason tells him he can't get Eric out of his head, and sexy times ensue. Of course this is a dream brought on by Eric giving Jason some of his blood in episode 6.09, but it was a memorable way for our favorite Viking to make his return!
(Read on for insight into the scene from Ryan and the episode's writer and director.)
Here's the scene where Eric gives Jason his blood:
EW has an interview with Ryan Kwanten, Kate Barnow (writer), and Howard Deutch (director) about filming the scene that adds some nice behind-the-scenes detail.
Howard Deutch: Bucky [showrunner Brian Buckner] and Kate asked me for my input, and I felt like the more ownership of the scene I gave Alex and Jason, the more they'd be able to channel it. So it wouldn't be me being a puppeteer or them just acting, they could be it. This is Jason's dream, so Alex kept saying, "Well, you tell me what to do, Ryan. It's your dream." And Ryan would go, "Well, I don't know. What do you want to do?" It started like that until Alex said, "Well, you know, I could f–k him or I could kill him. I'm not sure." And out of that came the notion that there's violence in the eroticism. There's a sense of, What is gonna happen here? It's not just romantic. It's dangerous as well.

Ryan Kwanten: We wanted a very to and fro scene—much like a seesaw, where I would take the power base, then suddenly he would, then I would slowly gain it back, and then suddenly he would. We wanted that constant elastic band being pulled type of feel.

…

Kate Barnow: We didn't want to shy away from what a real love scene would look like with them. And of course, when it got hot and erotic, I was like, "Oh god, the entire crew is looking at me and thinking that this is my fantasy life." That was the one problem with writing the scene. But it's not like anyone instructed them on how to play the actual love scene—that was all them. And they had a great time doing it.

Deutch: All I know is after it was done and the producers and HBO all looked at it, they said they felt I oughta do more porn films. I'd love to take credit, but I can't. It's all those guys. They just played it for the truth of what their characters felt, and so they made love. We just had two cameras going on them, and panning and groping—they're both gorgeous guys and they have amazing bodies, so it's not that difficult to do that.