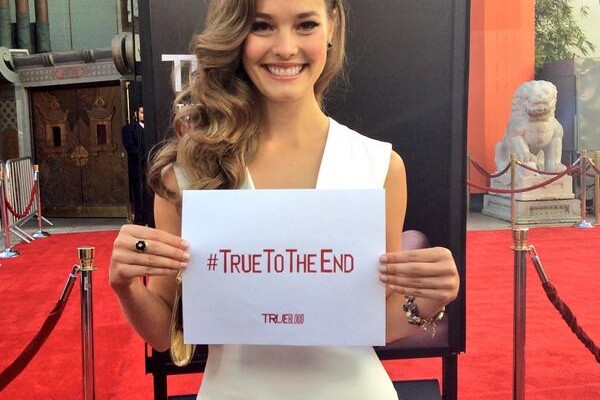 EXCLUSIVE: Bailey Noble Talks Playing a Half-Faery, Being Friends with Jessica
|
Bailey Noble has had a busy year since landing the role of Adilyn Bellefleur, half-faery daughter of Andy Bellefleur on True Blood last season. Upgraded to a series regular for season 7, Bailey is quickly establishing herself as a fan favorite. We caught up with Bailey recently and chatted about walking the red carpet, working with Deborah Ann Woll, and what's next.
True-Blood.net: The True Blood premiere was your first red carpet premiere experience, right? What was that like? What did your mom think of the whole event?
Bailey Noble: Absolutely incredible! My mom started crying she was so happy! I just tried to stay present the whole time and take everything in because it truly was a dream come true for me.
TB: What can you tell us about Adilyn's story this season?
BN: Adilyn is going to experience a lot in a short period of time! She will have a lot of firsts, good and bad.
TB: In the season premiere Jessica steps in as a big sister/protector for Adilyn. What's the best thing about working with Deborah Ann Woll?
BN: Getting to watch her work! Every take is different and she keeps it fresh. But above all that, she is a wonderful person and I've so enjoyed our talks on set!
TB: What was the audition process like for True Blood? Did you know from the beginning that Adilyn would be the only survivor among Andy's girls?
BN: I auditioned for Adilyn and that night they told me I was on hold for the role.  It wasn't until about 2 months later that I knew I had booked at least a guest spot.  All of the sisters had to re-audition to see which one of us would become recurring.  And I found out on the way to my first table read that I would be surviving!
TB: What's next for you after True Blood wraps?
BN: Right now I'm working on a short film for AFI called 'The Haircut'. I'm so excited about this film because it features strong roles for women and is set in 1976.
Speaking of the '70s, Bailey is also featured in Animal Years' new '70s-inspired video, "Forget What They're Telling You". Check out those dance moves!