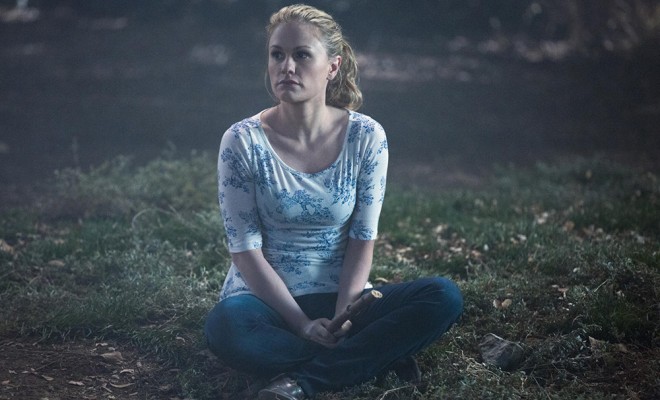 Tonight on True Blood: "Fire in the Hole" {LIVE CHAT}
|
We've made it through the night of the Hep-V vampire ambush (season premiere) to tie up what happened at the end of season 6 and tried to figure out what to do next (last week's episode), so now we're ready to launch into action! This week, Pam snaps Eric out of his ennui by pointing him at a specific target, Sookie and Bill try to work together which doesn't sit well with Alcide, Sam gets caught in an ugly showdown with the vigilantes, and Sarah Newlin returns!
Sookie (Anna Paquin) hatches a dangerous plan to take down the H-Vamps, even as Vince (Brett Rickaby) and his armed vigilantes pose an equally serious threat. Lafayette (Nelsan Ellis) gets high with James (Nathan Parsons); Jason (Ryan Kwanten) eyes a family future with Violet (Karolina Wydra); Willa (Amelia Rose Blaire) is forced to find a new place to stay; Sarah Newlin (Anna Camp) sheds her past. Pam (Kristin Bauer van Straten) offers Eric (Alexander Skarsgård) a compelling reason to return to Louisiana – and be the vampire he used to be.

Written by Brian Buckner; directed by Lee Rose.
"Fire in the Hole" premieres tonight at 9/8c on HBO. We will be hosting our live chat (see below) this evening beginning at 8:45/7:45c, so be sure to join us! In the meantime, as we count down the hours, here are some things you may have missed:
Live Chat
Joining us for our weekly live chat? Welcome! We'd love to have you participate, so please set up an account (click Profile below the text box in the chat window*), verify your account, login, and chat with us!
*Some of you have emailed saying you can't find the "profile" link to click. Here's a screencap for you: