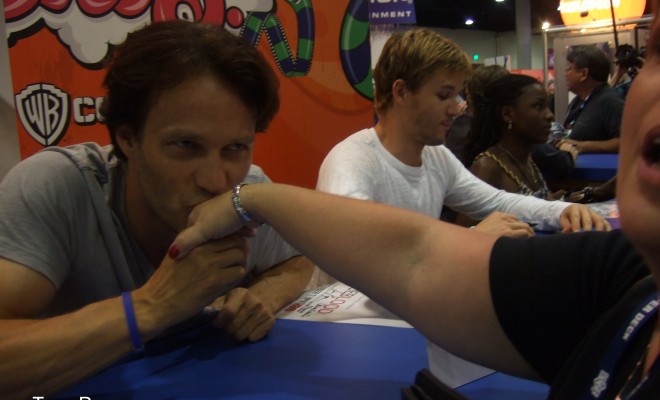 True Blood at Comic Con 2014 {UPDATED}
|
This isn't just the final season of True Blood, it's also the show's final appearance at San Diego Comic Con where it has had a huge presence since 2008. Incidentally, that was the first year Liz and I attended Comic Con, skidding into the convention center just in time to…not get into the True Blood panel. We were bummed. Until we accidentally got in line to meet the cast and get autographs and have Stephen Moyer get all smoldery when he kissed Liz's hand and she nearly swooned. Win!
Since then we've learned a lot about how to navigate the enormous convention and bring you all the True Blood coverage that's fit to print. Here's what we'll be covering as True Blood takes a final bow at Comic Con 2014. See you there?
Thursday, July 24
Behind the Music: Crime Death and Resurrection
10:30-11:30 Pacific
Room 4
We've confirmed that although Nathan Barr was originally scheduled to participate in this panel, he is unable to attend this year.
The Giver*
1:30-2:30
Hall H
Twenty years in the making, fans of the novel can rejoice: The Giver is coming to the big screen. The Weinstein Company and Walden Media will premiere exclusive footage from the upcoming film with stars Jeff Bridges, Brenton Thwaites, Odeya Rush, director Phillip Noyce, and bestselling author Lois Lowry.
*At this time Alexander Skarsgard is NOT listed as participating in this panel. However, that may change if his schedule permits.
Saturday, July 26
True Blood signing
2:00
Warner Bros. booth
We will update when information is available.
Michael McMillian Signing
2:30
Chronicle Books booth
McMillzz will be signing The Field Guide to Vampires at the Chronicle Books booth (#1506).
True Blood panel
5:00
Ballroom 20
We will be live-Tweeting, so make sure you're following us @TrueBloodDotNet!
Mixing romance, suspense, mystery, and humor, the Emmy and Golden Globe nominated True Blood kicked off its 10-episode seventh and final season June 22 on HBO. The series follows waitress and part-faerie Sookie Stackhouse (Oscar and Golden Globe Award winner Anna Paquin), who can hear people's thoughts, and vampires Bill Compton (Stephen Moyer) and Eric Northman (Alexander Skarsgård). Brian Buckner serves as executive producer of the series, which also features Ryan Kwanten as Jason Stackhouse, Sam Trammell as Sam Merlotte, Rutina Wesley as Tara Thornton, Nelsan Ellis as Lafayette, Deborah Ann Woll as Jessica Hamby, Kristin Bauer van Straten as Pam; Joe Manganiello as Alcide, Carrie Preston as Arlene Bellefleur, and Chris Bauer as Andy Bellefleur, Anna Camp as Sarah Newlin and Nathan Parsons as James. Oscar and Emmy Award winner Alan Ball created and is also an executive producer on the series, which is based on the bestselling Sookie Stackhouse novels by Charlaine Harris. Moderated by Tim Stack of Entertainment Weekly.
Updated 07.14.14: We now have the confirmed list of panelists. Alexander Skarsgard is currently not confirmed due to scheduling conflicts with filming Tarzan.
Executive producer Brian Buckner
Cast members (in alphabetical order)

Chris Bauer (Andy Bellefleur)
Kristin Bauer van Straten (Pam Swynford de Beaufort)
Anna Camp (Sarah Newlin)
Nelsan Ellis (Lafayette Reynolds)
Stephen Moyer (Bill Compton)
Anna Paquin (Sookie Stackhouse)
Nathan Parsons (James Kent)
Carrie Preston (Arlene Bellefleur)
Sam Trammell (Sam Merlotte)
Rutina Wesley (Tara Thornton)
Deborah Ann Woll (Jessica Hamby)
Sunday, July 27
True-Blood.net Live Chat
7:45-9:00 Pacific
Right here at True-Blood.net
Our live chat will be open all day, but Liz and I won't be joining in until the episode airs on the West coast. Behave yourselves!
Monday, July 28
True-Blood.net Live Podcast
Time and location TBA
Last year we did a live podcast from San Diego to talk about the previous night's episode and all the Comic Con shenanigans. We're aiming to do it again this year; stay tuned for details!
Want to help us with expenses? Donations gratefully accepted! Click here.