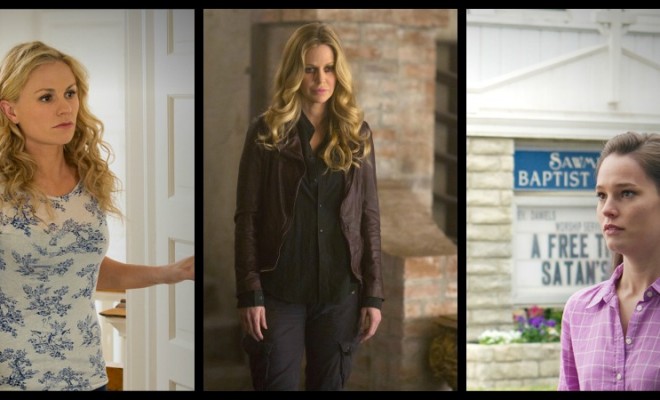 True Blood Fashion: Sookie's printed top, Pam's leather jacket, Adilyn's plaid shirt
|
The True Blood fashion column is back! We're taking your season 7 fashion questions to True Blood Costume Designer Audrey Fisher, and getting the scoop on where you can find the same (or similar) pieces. Today we're sourcing Sookie's long-wearing top, Pam's leather jacket, and Adilyn's plaid shirt.
Q. It seemed like she had to wear it forever on the show, but I loved the blue and white top Sookie wore in several episodes. Can you tell me where to get it? – Lesley
A. Oh how I love this top. Several people commented that the print "looks like a vase", but you know what? I'd be happy to look like that vase! Audrey picked up several of these BDG cream-and-blue print boatneck tops at Urban Outfitters for her to wear over the course of four episodes (end of 7.01-beginning of 7.04). Even though these episodes were filmed months ago, the top is still available. Clearly something supernatural is at work here! And it's out of stock already. Sorry!
Q. The leather jacket Pam has been wearing so far this season is gorgeous! Where can I find it? – Nadia
A. How lucky is Pam that she can wear whatever she wants, no matter what the weather's like? Bikini in December? No problem. Leather jacket in May? You got it. Audrey sourced Pam's jacket from Muubaa, befitting her stylish sensibilities. It's a fitted biker jacket, similar to this one and this one.
Q. I'd love to know where Adilyn's lilac/purple plaid shirt is from. It's too cute! – Em
A. There must be a JC Penney near Bon Temps, or else Adilyn has been doing some online shopping. The pretty lilac widowpane print shirt is by Joe Fresh, but alas, it is no longer available. (I did find one on eBay.) How about this cute checked tunic?
Do you have a burning True Blood fashion question? Drop us a note or leave a comment below, and we'll see what we can dig up for you. PLEASE NOTE: We are only accepting questions for items worn during season 7.
[show_shopthepost_widget id="155528″]