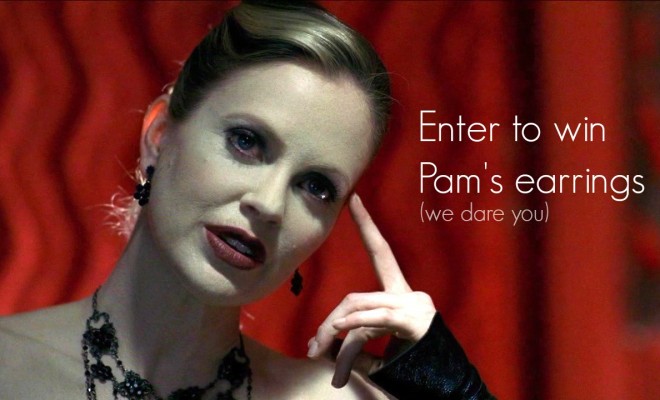 Enter to Win Pam's Earrings!
|
Truebies, we have another exciting giveaway for you! We are delighted to give you the opportunity to win a pair of gorgeous earrings similar to those worn by Kristin Bauer van Straten as Pam on True Blood in season 1 episode 4 when we first met her (and Eric) at Fangtasia. Marianna has also provided necklaces and other jewelry for Pam as well as Queen Mab and Maurella. Many of you have emailed inquiries about those pieces, so we're extra excited to be able to offer not just this giveaway, but a discount coupon for Marianna's pieces.
The small Flower Dangle Earrings were designed by Marianna Harutunian and can be ordered in any plating (24K Gold, Silver, Antique Gold, Antique Copper, or Black Pearl finish) as well as any color of Swarovski crystal.
Based in Downtown Los Angeles, CA, Celebrity Jewelry Designer Marianna Harutunian, creates for the most discerning clientele and magazines, including: Katy Perry, Lady Gaga, Lucy Hale, Will-i-am, Nicki Minaj, Pink, Rose McGowan, Kelly Osbourne, Vogue Japan, Disney, Beyonce Music Video, Carmen Electra, True Blood, House of Lies, Gossip Girl, The Olsen Twins, and many more!
These earrings are courtesy of Lorraine Robledo, a sales rep for the designer. In addition to donating the gorgeous pair of earrings for this giveaway, Lorraine has offered a special discount code for anyone who purchases items through Marianna's store. Enter code LRSALES at checkout to receive 15% off your purchase!
How to Enter
This giveaway is open to Truebies worldwide!
Leave a comment below and share your favorite Pam memory;
Be sure to enter a valid email address in the appropriate field;
One entry per person – duplicates will be deleted;
Comments must be posted by 11:59PM Pacific on Thursday, July 31, 2014 to be eligible;
One (1) winner will be drawn at random from eligible entries and notified via email.
Good luck!
**This contest has ended. Congratulations to our winner, Michelle G.!**