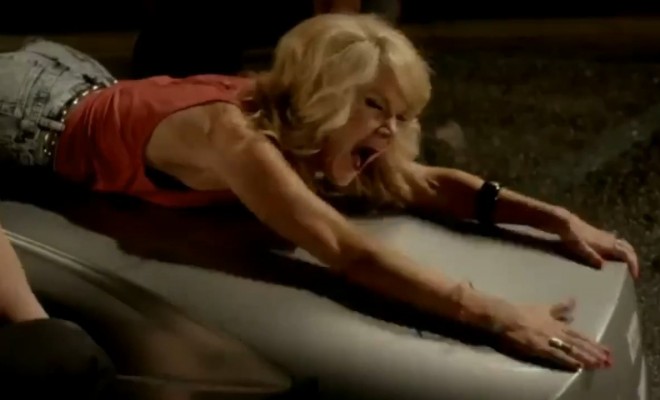 VIDEO: True Blood Episode 7.05 Preview + Screencaps
|
Check out the preview for True Blood episode 7.05, "Lost Cause", along with some choice screencaps below.
WARNING: SPOILERS AND SPECULATION AHEAD!
I've grouped the screencaps together by scene rather than how they appear in the preview. Here are the highlights:
Willa is still angry with Eric for leaving her, and demandsto be released since he won't take her to Dallas.
Sarah/Noomi is on the run, but who finds her first, the Yakuza or Eric & Pam?
At the mainstreaming party at Sookie's house, Jessica and James appear to get in a fight, then Jessica goes in for a kiss with Jason. Or vice versa (kiss first, then fight).
Lettie Mae (we think) shows up at the party with a knife. Sam gets it away from her, but Nicole is still upset about something. Possibly related to the cramps she was having in the dungeon.
Pam covers Eric's tell-tale veins as they get ready for the gala in Dallas, followed by Eric in a Stetson. You're welcome.
Ginger screams atop a coffin again. You're welcome.
Bill wakes up in the bathtub. You're welcome.
"Lost Cause" premieres Sunday, July 20 at 9/8c on HBO.