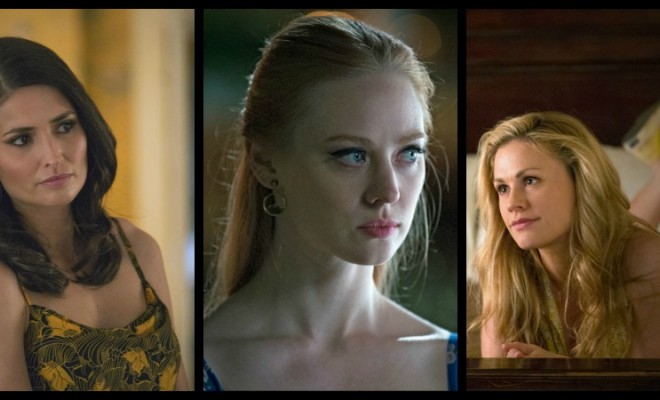 True Blood Fashion: How to Dress for a Party at Sookie's House
|
This week Sookie (reluctantly) hosted a party at her house for the remaining citizens of Bon Temps to mourn the deaths of their loved ones, particularly Alcide and Tara in particular, and to celebrate life. Queries about the dresses worn by various characters to the party started coming in immediately, so we're focusing on those today with the help of Costume Designer Audrey Fisher.
One note: since True Blood wrapped production on July 9, and the costume shop has been dismantled, Audrey is working from memory and old notes, so
Q. Please can you ask Audrey Fisher to let us know what the yellow floral top / dress is that Sookie is wearing at her party in episode 7.05 please? – Hazel
A. I fell in love with that dress immediately! So perfect for Sookie, and did you notice it was paired with yellow Keds? Adorbs! This sleeveless printed chiffon dress is by Lucca Couture and, alas, is no longer available in stores. Here's Lucca's current yellow floral dress. Boohoo has a belted skater dress that's very similar, although in a solid instead of a print.
Q. I absolutely loved the blue dress that Jessica wore to the party at Sookie's in season 7, episode 5 called "Lost Cause". Where is it from? – Cassandra
A. We had a lot of inquiries about this sweet dress, but Audrey could not remember the details on it and didn't have the label information in her notes. It's a blue sundress with spaghetti straps and a daisy print, so based on that I found a couple of similar options: Clear as Daisies dress from Mod Cloth; Sparkle & Fade Open-Back Skater Dress at Urban Outfitters
Q. There are 4 beautiful dresses worn on tonight's episode. Can you please tell me what dresses Sookie, Jessica, Adilyn and Violet wore? Loved them all!!! – Natalie
A. We already have two of your four answers above, Natalie, but here are the other two: Violet was actually wearing a vintage romper (who knew?) that Audrey found at Scout LA, a vintage store she's sourced a lot of great looks from over the years. Audrey didn't have the label for Adilyn's pretty white dress in her notes, but white spaghetti strap sundresses are pretty easy to find. Here's an option from Old Navy that I could see Adilyn buying, and this one by Stetson has some interesting textures and pretty detailing.
[show_shopthepost_widget id="171800″]
P.S. Did you see this fun interview Audrey did with EW about Eric and Pam's Dallas costumes and their wardrobes from the '80s and '90s flashbacks? It's a must read for fashion nerds like us!