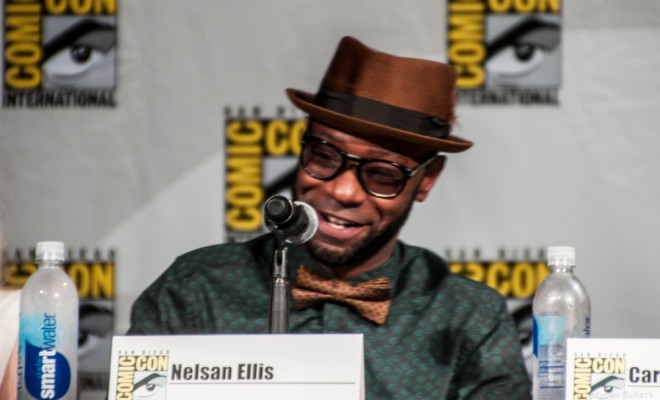 Nelsan Ellis on Inspiration from RuPaul, Lafayette's Happy Ending
|
True Blood star Nelsan Ellis is a fan favorite both as himself and as Lafayette Reynolds. In the books, his character doesn't survive past the first installment, but after seeing what Nelsan brought to the role, Alan Ball made sure the character made it past the first season finale, and now we're eagerly awaiting the conclusion of Lafayette's story after hanging out with him for seven seasons. In a new interview with The Hollywood Reporter, Nelsan reveals a happy ending for Lafayette, working with Nathan Parsons, and talks about how he keeps his character "fresh".
It didn't turn out well the first time Lafayette (Nelsan Ellis) and his then-boyfriend experimented with the supernatural. In this past Sunday's True Blood, Lafayette and Lettie Mae (Adina Porter) had a vision of Tara (Rutina Wesley) via vampire blood from his new partner James (Nathan Parsons) — but that romance is heading for "a happy ending," Ellis tells The Hollywood Reporter.

The pair had sex outside the Bon Temps "celebration of life" in the previous episode, but were discovered by an infuriated Jessica (Deborah Ann Woll), who immediately broke up with James. That prompted a reprimand from Lafayette: "Has it ever f—-ing occurred to you that Lafayette, that queen that make all you white heterosexuals laugh and feel good about yourselves—has it ever f—ing ever occurred to you that maybe I want a piece of happiness, too?"

"He does get that happiness, and it's a long time coming," Ellis tells THR. "He had to kill his last boyfriend [Kevin Alejandro]. This season for him is about redemption and taking command of his happiness."

Lafayette's speech to Jessica is one of Ellis' favorite moments of the series, the actor says. He's one of a handful of characters who have been on the HBO drama since its first episode, and Ellis says his favorite moment ever is season one's "AIDS burger" scene — in which Lafayette responds to a Merlotte's customer's insults by licking a hamburger and shoving it into the man's face (then sauntering off with a "Tip yo' waitress").