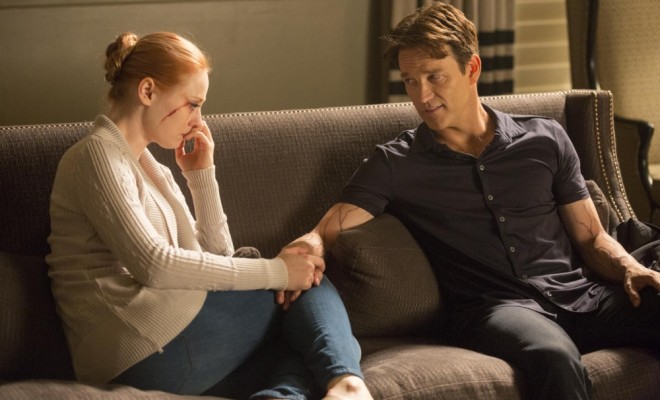 Tonight on True Blood: "May Be The Last Time" {LIVE CHAT}
|
With just four episodes of True Blood remaining, it's time start wrapping up storylines and moving characters toward their fates. What does that title mean, anyway? Tonight's episode was written by Craig Chester who wrote the excellent 7.05, so we're looking forward to what he does with our favorite characters this week.
Eric (Alexander Skarsgård), Pam (Kristin Bauer van Straten) and Mr. Gus (Will Yun Lee) close in on Sarah (Anna Camp) in Dallas. Adilyn (Bailey Noble) and Wade (Noah Matthews) find a temporary haven, and unexpected hospitality. Refusing to accept the inevitable, a desperate Sookie (Anna Paquin) turns to unexpected resources in search of a miracle. Bill (Stephen Moyer) recalls the inexorable forces that led him to his marriage 170 years earlier. A familiar face resurfaces in Bon Temps. Sam (Sam Trammell) faces a quandary.

Written by Craig Chester; directed by Simon Jayes.
"May Be the Last Time" premieres tonight at 9/8c on HBO. Join us for our live chat (see below) at 8:45/7:45c.
In the meantime, as we count down the hours, here are some things you may have missed:
Live Chat
Joining us for our weekly live chat? Welcome! We'd love to have you participate, so please set up an account (click Profile below the text box in the chat window*), verify your account, login, and chat with us!
*Some of you have emailed saying you can't find the "profile" link to click. Here's a screencap for you: