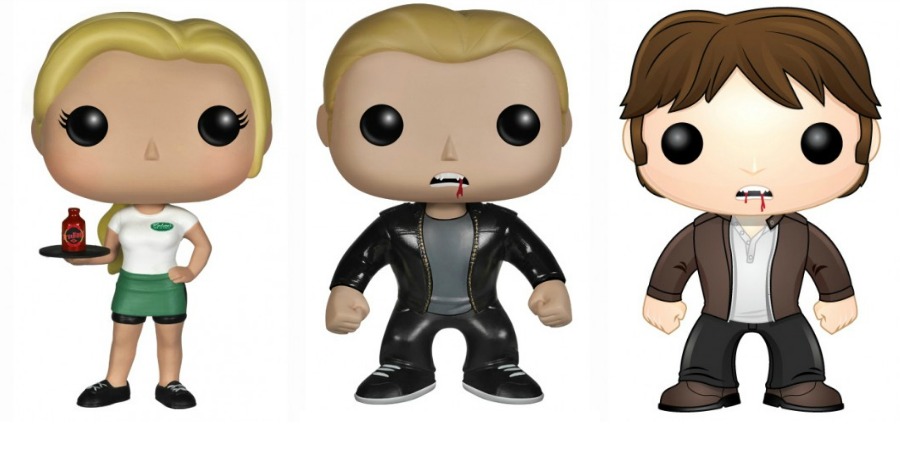 True Blood POP! Figurines Now Shipping + More New Merchandise
|
Good news, Truebies! Those adorable Funco Pop! Figurines we told you about a couple of months ago are now shipping!
The HBO Shop originally listed a shipping date of August 11, but we've seen a few photos on social media of people having received theirs, and the shop now says they ship within 1-2 business days.
The vinyl series features six of our favorite characters: Sookie Stackhouse, Eric Northman, the late Alcide Herveaux, Lafayette Reynolds, Pam Swynford De Beaufort and Bill Compton. (If these sell well, maybe we'll get a second series with Jason, Jessica, Arlene, etc.)
The True Blood Pop! Vinyl Figurines stand 3.75 inches tall and come out in a window display box. They are available to order on the HBO Shop, and also will be sold nationwide at Barnes & Noble Booksellers, Toys R Us, Hot Topic, Target, Walmart, 7-Eleven, Amazon.com and at specialty toy retailers.
Other new items include a red Bon Temps football jersey, the 2015 True Blood calendar, a "mash-up" t-shirt featuring "the show's most iconic people and places", a lightweight hoodie and more. Visit the HBO Shop to see all the goodies available.
Note: links to the HBO Store are affiliate links. If you purchase items via those links, True-Blood.net receives a small percentage of thee cost which is used for hosting fees and site upgrades.