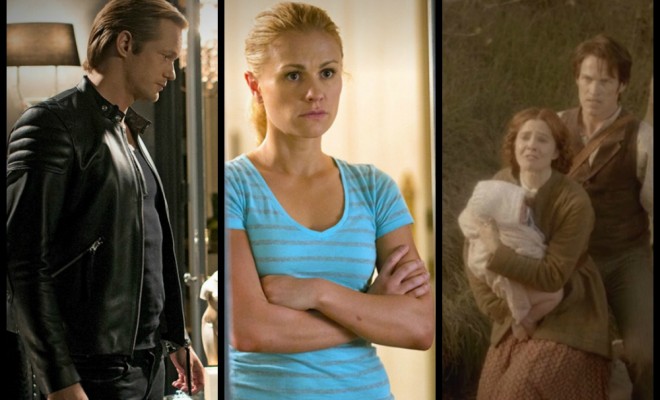 True Blood Fashion: Eric's Black Leather Jacket, Sookie's Blue Top, Dressing the Comptons in 1860, Plus Audrey's New Gig!
|
Guys, I'm sorry for not keeping up with this fashion feature more regularly this season. With many characters wearing the same thing for 2-3 episodes, we haven't had a lot of inquiries about wardrobe. In addition, True Blood Costume Designer Audrey Fisher pulled a lot of items she bought long ago out of various character closets to use this season, meaning several things you are asking about haven't been available to purchase for years.
Q. What brand is Eric leather jacket on ep 9 season7? – Jaime
A. Eric's jacket is the Oliver Black classic leather biker jacket from Acne Studios.  Audrey describes it as, "Gorgeous. Swedish. Like him."
Q. Can you please find out who makes the blue top Sookie is wearing in the episode where she brings Bill to Sarah for the cure? Any help you can give would be appreciated. Thanks! – Natalie
A. This is an example of an item that's been lurking in Sookie's closet, waiting for its big moment. "Pretty sure that's a very vintage Ocean Pacific tee," Audrey says. "I've had it in her closet a long time and it finally got it's close up!"
Q. Could you kindly ask Audrey Fisher what it was like to dress Stephen Moyer and the actors playing Bill Compton's family for their flashbacks to the 1860′s? They all looked really dapper. – Rina
A. Says Audrey: "Nice question! The flashbacks were great fun, but as usual we didn't have a lot of prep so had to rely on our wonderful costume rental houses to put thes Civil War costumes together. American Costume was our best friend here!"
Audrey also shared that she's been working on a new gig for the past three weeks – the upcoming Amazon pilot The Man in the High Castle, based on Phillip K. Dick's novel of the same name. Set in 1962, this is an alternative reality in which Nazi Germany and Japan won World War II and occupy the United States, with the East Coast controlled by the Nazis and the West Coast owned by Japan, and a chunk of the Midwest still up for grabs. Audrey is in retro wardrobe heaven!
Next week: Sookie's series finale dresses.