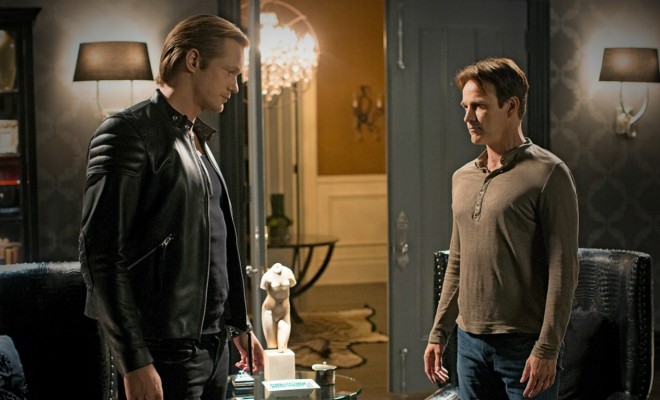 Cast, Showrunner Discuss True Blood Storylines That Might Have Been
|
We all have opinions about storylines that True Blood coulda/shoulda/woulda followed, but what do the cast and showrunners think? The Hollywood Reporter asked Stephen Moyer, Deborah Ann Woll, Joe Manganiello, Carrie Preston, and more what storylines they would like to have explored on the show.
Stephen Moyer felt that we got a good idea of Bill's human history, but would have liked more looks back into his vampire past.
Bill Compton's (Stephen Moyer) human life was shown in flashbacks throughout season seven, but Moyer wanted to see more of Bill's vampire past — in particular, what caused the bad blood between him and Eric (Alexander Skarsgard). "I had always wanted for us to see a flashback to that, and so that Alex and I got a chance to do more flashbacks together," Moyer tells THR.
Deborah Ann Woll is curious about the
"You'll see these scenes with people in broken-down trailers but with chains and chains of silver. Is that because the value's gone down, are they stockpiling it? Could you go to a vampire to get glamoured to quit smoking? What about the family drama of a human aging and a vampire staying the same?" she says. "As the actor, I'm sitting there like, 'hm.' "
Joe Manganiello knew Alcide wouldn't end up with Sookie, and he figured his days were numbered when the two got together at the end of season 6, but he had some ideas for Alcide if he'd survived. He also teased a storyline for that got cut, although details are scarce.
With more screen time, he would've liked to develop Alcide's relationship with Emma (Chloe Noelle). "She was orphaned because of Alcide. Alcide never wanted to have kids, so it would have been interesting to see him burning off the karma of putting her into a parentless atmosphere," Manganiello tells THR. "It could've taught him that being a wolf wasn't all that bad. It would have been an opportunity to see a warm, paternal side of him in the midst of dealing with monsters in the wolfpack."

He says Alcide and his father Jackson (Robert Patrick) had an interesting storyline that was removed from season six. "When you've got three showrunners in as many episodes [Buckner replaced Mark Hudis not long after creator Alan Ball exited], something's got to give. That something unfortunately was my storyline. There was a plan to — [Jackson] came back for a reason, it just never happened," Manganiello says.
Carrie Preston was happy with Arlene's storyline.
Carrie Preston tells THR that Arlene's growth from fearing vampires to falling in love with one (Riley Smith's Keith) "was a great build. It builds up over the seasons, as opposed to breaking down or kind of fizzling out — it was the opposite. I feel like I had a great climb, and where it ended up was perfect."
Read more here.