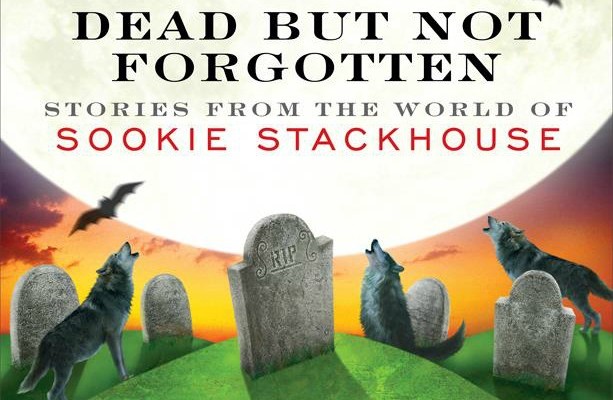 Dead But Not Forgotten: Stories from the Sookieverse
|
More than a year after the final Sookie novel, Dead But Not Forgotten returns us to the Sookieverse for a series of short stories about characters Sookie encountered during her many adventures, as well as a look back and a look ahead in time.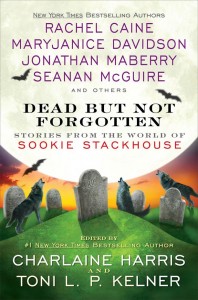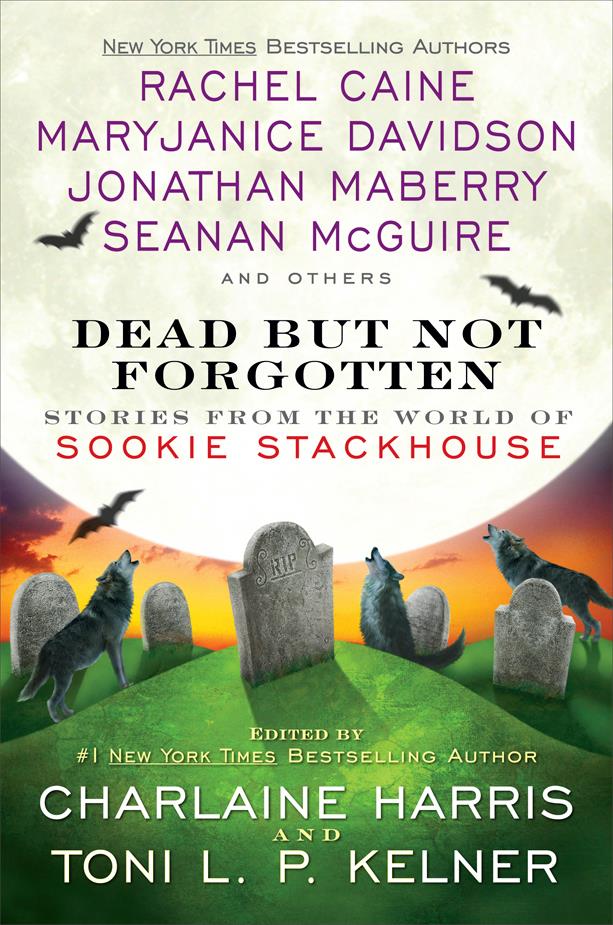 First things first: while Charlaine Harris edited this anthology, and the characters and settings spring from her own novels and short stories, this book does not contain a new story from Charlaine.
The premise is interesting: fifteen other authors chose characters that piqued their interest and wrote about them at various points in the Sookieverse continuum. This collection is for all those times you wished Sookie would interact with this character or that character more so we could get to know them better.
We begin with a peek into the personal lives of Kevin and Kenya, the Deputies who appear in most of the novels, in "Nobody's Business". Rachel Caine envisions the beginnings of their romance, even as they face mysterious supes and awful humans.
Christopher Golden checks in with Quinn in "Tyger, Tyger," set a few months after the end of Dead Ever After. He's having a bad day, and it only gets worse when an evil doctor intent on creating a mercenary force of weretigers gets a hold of him.
Leigh Perry takes us along for the ride when Mr. Cataliades and his niece, Diantha, pay a visit to Sookie and Sam's house on Christmas Eve. "The Real Santa Claus" is set several years after the end of the series, when Sookie is pregnant with her third child and not really feeling the Christmas spirit. Perry captures Diantha's fasterthanfast speed of talking, her quirky style, and her big heart in what may be my favorite chapter in this anthology.
In "Taproot", set shortly after Living Dead in Dallas, Andy Bellefleur is still dealing with the aftermath of Lafayette's murder in his car (remember, in the books Lafayette is a murder victim) plus a crew from the Food Network who have descended on Merlotte's with less than honorable intentions.
Jeanne C. Stein took on the rather daunting task of writing about Gran and how she came to conceive two children with a fairy in "Love Story". Told in just a few pages, using a journal format, it's a poignant tale that asks forgiveness for Gran's indiscretions. And I find that I'm willing to do so.
Other stories follow Mustapha, the ex-con lone wolf; Desiree Dumas, who we only knew previously through the memories of her friend, Bethany Rogers, in Living Dead in Dallas; vampires Todd Seabrook and Bev Leveto, hosts of a popular makeover reality show from Dead and Gone; Alcide's prom (yes, really); Claude and Claudine solving a possible murder; Luna Garza and an undercover mission that leads her to Hunter Savoy and his father, Remy; Pam; even Bubba gets his own story!
The final story, "Widower's Walk" by MaryJanice Davidson, is set in the 23rd century. Eric Northman, the titular widower, is passing through Baton Rouge when he stops at a bar for some Tru Blood, and a glimpse of the famed and formidable Stackhouse-Merlotte clan. I'm most likely in the minority here, as I was with regards to the end of the book series, but I feel like this story is a bit of pandering to the Eric/Sookie fans. I appreciate the idea of using Eric's connection to Sookie as a way to check in on her descendants, and the opportunity to hear more of Eric's own story, but the tone here, especially when her great-great grandchildren are talking about their eccentric fairy grandmother, veers toward retcon. Obviously it has Charlaine's approval, and Davidson is careful about telling Eric's side of the story, but it still feels "off" to me.
This collection is a mixed bag, as one would expect from such a variety of storytellers. With Charlaine's characters to unite them, we have murder mysteries, romance, humor, drama – anything and everything to appeal to readers of every genre. I anticipate a lively discussion from readers about which story is their favorite.
Dead But Not Forgotten is on sale now online and in bookstores.
Note: I received an advance copy of Dead But Not Forgotten from Penguin for review. All opinions are my own.