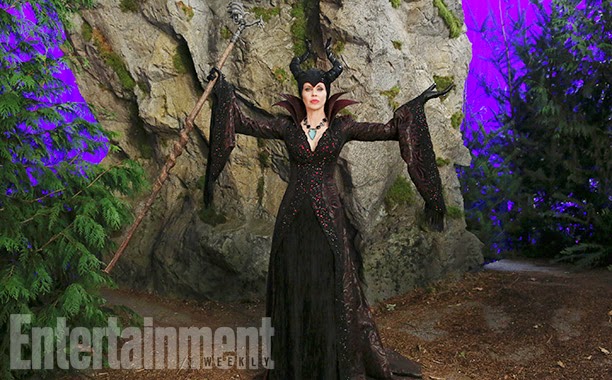 Kristin Bauer van Straten Returns to ONCE UPON A TIME
|
The villains are coming! The villains are coming! In Sunday's mid-season finale of Once Upon a Time, Kristin Bauer van Straten returns to the show as Maleficent, accompanied by Merrin Dungey as Ursula and Victoria Smurfit as Cruella de Vil. The trio, called the Queens of Darkness, will be causing problems for our heroes in the second half of the season, but Entertainment Weekly has some scoop on what we can expect from Kristin's return:
So, you're saying these villains are teaming up to get their happy ending. Isn't it a catch 22? To get their happy ending, aren't they inevitably going to do something evil?
HOROWITZ: Happy ending doesn't necessarily equal redemption, because happy endings are in the eye of the beholder.
KITSIS: Yeah, it's what makes you happy. For instance, if watching two beloved heroes die makes you happy, well then your happy ending is probably different than the two heroes who want to see the villain die.

These are three very strong and malevolent characters, each a Queen of Darkness in their own right. Can they actually work together?
HOROWITZ: That's part of the fun—these strong women with slightly aligned agendas, but wanting things for themselves, and watching the sparks fly between them.
KITSIS: You have three leaders who all want to lead. Of course, only one can. For us, what's interesting is watching villains take a page from the hero playbook. Heroes always work together and never put their ego first. Villains so often put their ego first and lose. These are smarter villains coming back to correct the mistakes from their past.

…

Maleficent's new costume appears to be very similar to the one Angelina Jolie wearsin the film that came out this summer, in which Maleficent isn't necessarily evil. Is the costume change a hint?
KITSIS: It's [costume designer] Eduardo [Castro] getting creative. [He] loves to change the costumes. If you notice, sometimes Lana will have 20 changes in an episode for no reason other than we can.
HOROWITZ: To be completely honest, Maleficent appeared in the second episode of the show. Now, everyone–the writers and costume designers—have had more time to really develop the character on a character level, a visual level and special effects level.
KITSIS: I would say she'll probably have a few more dresses before we're done.
HOROWITZ: As far as the movie Maleficent goes, we were big fans of that movie, but we're not doing that movie. We're doing our spin on Maleficent. There may be nods to that movie and the classic Maleficent story—
KITSIS: Definitely nods to the classic. As Adam said, we introduced her in episode 2, so we had already been thinking about her on our own. So like Frozen, we'd stick more towards the movie. This is a case where this half of the season is going to be much more of the Once twist on all of them.
HOROWITZ: One of the things we established very early on with Maleficent in season 2 was that she and Regina had a relationship, so that's a thread we intend to explore.