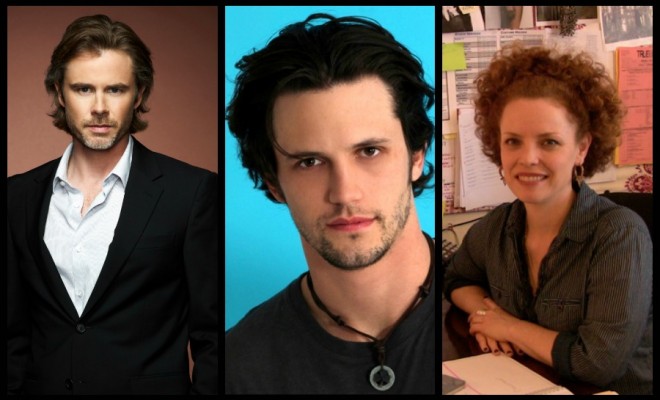 Amazon Pilots Starring Sam Trammell & Nathan Parsons Coming January 15
|
Yesterday Amazon announced that they will launch their first original pilots for 2015 this month, including projects involving three True Blood alumni. Sam Trammell, Nathan Parsons, and Audrey Fisher are each involved in separate pilots for Amazon, debuting on Thursday, January 15.
As in the past, customers are invited to watch and provide feedback on the shows they want to see turned into full series. All pilots will be available via the Amazon Instant Video app on Amazon Fire TV, Fire TV Stick, Fire tablets, Fire phone, iPad, iPhone, iPod Touch, Roku, Xbox, PlayStation, Wii, as well as hundreds of other connected devices such as smart TVs—or customers can visit Amazon.com/AIV to watch online.
Sam Trammell stars in Cocked, created by Sam Baum (Lie to Me) and Sam Shaw (Manhattan – TV series). Sam plays Richard Paxson, a family man and corporate lap dog who left his family in rural Virginia twenty years before and vowed never to go back. After some unfortunate circumstances, he is forced to leave the big city and return home to help his family's gun business—one of the oldest in the country. But no good deed goes unpunished. Older brother Grady Paxson, played by Jason Lee (My Name is Earl), who's a bachelor, playboy and gun aficionado, isn't so happy to have him back, and Richard's liberal wife and two opinionated teenage children are horrified by the world they have been thrown into. Hilarity, epic fights and emotional breakdowns ensue. Cocked also stars Brian Dennehy (The Good Wife) as Wade Paxson, Laura Fraser (Breaking Bad) as Hannah Paxson, and Dreama Walker (The Good Wife) as Tabby Paxson. The hour-long dark comedy pilot is directed by Jordan Vogt-Roberts (Skull Island), and Erwin Stoff (Unbroken), Shaw, and Baum are Executive Producers.
Nathan Parsons takes the lead in Civil War drama Point of Honor. At the start of the Civil War, a Virginia family, led by their West Point bred son, John Rhodes (Parsons), makes the controversial decision to defend the South while freeing all of their slaves. At battle against his northern brethren and his best friend and brother-in-law Robert Sumner (played by Christopher O'Shea, Baby Daddy), John leaves his three strong-willed sisters at home to run the plantation that is now without a free labor source. The choice to protect the life they have always known and defend the moral high ground will pit the family against one another and test their strength, courage and love. An hour-long drama shot entirely on-location in historic Virginia, Point of Honor also stars Annabelle Stephenson (Revenge) as Kate Rhodes, Riley Voelkel (The Newsroom) as Lorelei Rhodes, Hanna Mangan Lawrence (Old School) as Estella Rhodes, Patrick Heusinger (Revolution) as Colonel Palmer Kane, Luke Benward (Ravenswood) as Garland Rhodes, Adrienne Warren (Black Box) as Abby, Lucien Laviscount (Waterloo Road) as Elijah, and James Harvey Ward (Low Winter Sun)as Cutler. The pilot is directed by Randall Wallace (Braveheart), written by Carlton Cuse (Lost) and Wallace, and Executive Produced by Cuse, Wallace and Barry Jossen (Sex and the City). Point of Honor is being co-produced with ABC Signature Studios.
Costume Designer Audrey Fisher takes her keen eye to The Man in the High Castle, based on Philip K. Dick's Hugo Award-winning 1962 alternative history. The show considers the question of what would have happened if the Allied Powers had lost World War II. Some 20 years after that loss, the United States and much of the world has now been split between Japan and Germany, the major hegemonic states. But the tension between these two powers is mounting, and this stress is playing out in the western U.S. Through a collection of characters in various states of posing (spies, sellers of falsified goods, others with secret identities), The Man in the High Castle provides an intriguing tale about life and history as it relates to authentic and manufactured reality. The hour-long dramatic pilot stars Alexa Davalos (Mob City) as Juliana Crain, Luke Kleintank (Pretty Little Liars) as Joe Blake, Rupert Evans (The Village) as Frank Frink, Cary-Hiroyuki Tagawa (Mortal Kombat Legacy) as Tagomi, Joel De La Fuente (Hemlock Grove) as Inspector Kido, Rufus Sewell  (Eleventh Hour) as John Smith and DJ Qualls (Z Nation) as Ed McCarthy. The pilot is directed by David Semel (Madam Secretary, Heroes) and written by Frank Spotnitz (The X-Files), both serving as Executive Producers. Also executive producing are Ridley Scott and David W. Zucker, with co-executive producer Jordan Sheehan of Scott Free Productions (The Good Wife, The Andromeda Strain), and Executive Producers Stewart Mackinnon and Christian Baute of Headline Pictures (The Invisible Woman). In addition, Isa Dick Hackett will executive produce and Kalen Egan will co-executive produce on behalf of Electric Shepherd (The Adjustment Bureau). Christopher Tricarico (May in the Summer) is also Executive Producer.
Catch all three pilots beginning January 15 here.