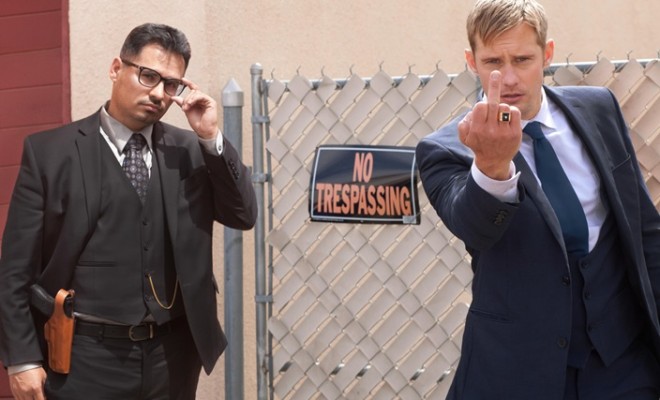 First Look at Alexander Skarsgard in 'War on Everyone'
|
The first still from the upcoming dark comedy War on Everyone shows an apparently pissed off Alexander Skarsgard giving the camera the finger while co-star Michael Pena casually displays his sidearm. Good cop-bad cop?
War on Everyone is John Michael McDonagh's follow-up to his acclaimed 2013 film, Calvary. The "black comedy" tells the story of two corrupt cops (Skarsgard and Pena) who set out to blackmail and frame every criminal unfortunate enough to cross their path…until they intimidate someone who is seemingly more dangerous than they are (Divergent's Theo James). Or is he?
In a press release, McDonagh said: "It gives me great pleasure to declare War on Everyone with my fellow combatants, Michael Peña and Alexander Skarsgård. We look forward to the battles ahead, and we will go on with a spirit that fears nothing. That's Homer, by the way."
The movie is currently filming in Albuquerque, New Mexico.