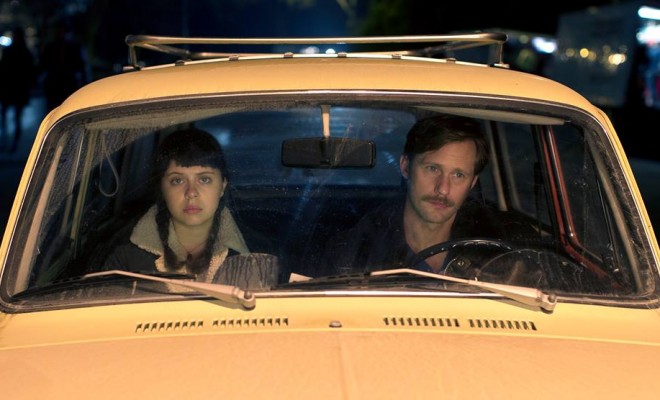 Watch the Trailer for 'The Diary of Teenage Girl', Co-Starring Alexander Skarsgard
|
The buzz coming out of the Sundance Film Festival was that The Diary of Teenage Girl, co-starring Alexander Skarsgard as "the handsomest man in the world", is a winner. Now we, the hoi polloi who weren't at Sundance, can take a peek at the movie in the brand new trailer, just released today.
Official Synopsis:
Like most teenage girls, Minnie Goetze (Bel Powley) is longing for love, acceptance and a sense of purpose in the world. Minnie begins a complex love affair with her mother's (Kristen Wiig) boyfriend, "the handsomest man in the world," Monroe Rutherford (Alexander Skarsgård). What follows is a sharp, funny and provocative account of one girl's sexual and artistic awakening, without judgment.
Set in 1976 San Francisco, The Diary of Teenage Girl begins at the crossroads of the fading hippie movement and the dawn of punk rock. News commentary of the Patty Hearst trial echoes in the background, as Minnie's young expressive eyes soak in a drug-laden city in transition— where teenage rebellion and adult responsibility clash in characters lost and longing. Minnie's hard-partying mother and absent father have left her rudderless. She first finds solace in Monroe's seductive smile, and then on the backstreets of the city by the bay. Animation serves a refuge from the confusing and unstable world around her. Minnie emerges defiant— taking command of her sexuality and drawing on her newfound creative talents to reveal truths in the kind of intimate and vivid detail that can only be found in the pages of a teenage girl's diary.
The Diary of Teenage Girl is based on Phoebe Gloeckner's novel of the same name, hailed by Salon as "one of the most brutally honest, shocking, tender and beautiful portrayals of growing up female in America." Writer/Director Marielle Heller unlocks this diary with a richly comedic and deeply personal vision. In her feature film directorial debut, Heller brings Gloeckner's book to life with fearless performances, a stirring score, inventive graphic novel-like animation sequences, imagination, humor and heart. It is a coming of age story that is as poignant as it is unsettling.
The film's release date has not yet been announced.