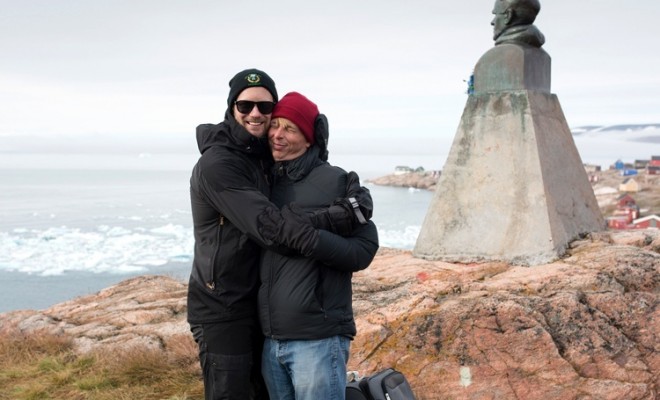 Alexander Skarsgard Sails to Greenland for new web series
|
Alexander Skarsgard continues his quest to draw awareness to climate change issues with his new project, a comedy series for Funny or Die, touted as the first comedy series in the world that's shot on location in the Arctic Ocean.
It's all happening! @funnyordie filming the 1st EVER #ArcticComedy series starring Alexander Skarsgård&Jack McBrayer! pic.twitter.com/nRy6TKG4mv

— Arctic Sunrise (@gp_sunrise) September 17, 2015
Alex and 30 Rock's Jack McBrayer, along with activist Andy Bichlbaum, are currently sailing around Greenland aboard the Greenpeace ship Arctic Sunrise. The goal of the trip and subsequent web series is to bring awareness about the need to act on climate change.
"This Arctic project is about raising awareness and about getting some important messages out there," Alex said in a statement released by Greenpeace. "But we're trying to do it in a way where we kind of make fun of ourselves, Jack and I. So we're trying to do a slightly comedic spin on something that is very serious – a comedic take on a life-and-death question."
The project is designed to "increase public awareness of the costs of global warming and build support for Greenpeace's global 'Save the Arctic' campaign," according to Greenpeace. Greenpeace is releasing daily posts about the expedition, "which show Alex, Jack and Andy discovering the spectacular landscapes and wildlife of the region."
Follow the mission via the Arctic Sunrise Twitter account.