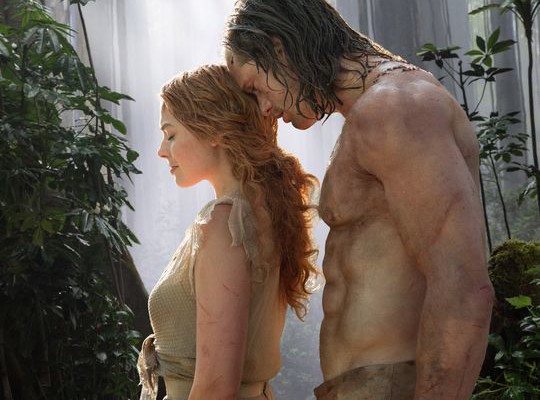 First Look: Alexander Skarsgard in THE LEGEND OF TARZAN
|
The Legend of Tarzan is still 8 months away from arriving in theaters, but the promotional machine is kicking into gear to get us thinking about next summer. USA Today kicks things off with our first look at Alexander Skarsgard as Tarzan and Margot Robbie as Jane. If these images don't warm you up, I don't know what will!
USA Today also has further details about the movie's plot – the movie finds John Clayton III, Lord Greystoke (aka Tarzan), a decade removed from his home in the Congo and fully entrenched as a British gentleman in 1880s Victorian London, with his beloved wife Jane (Margot Robbie) by his side.
David Yates weighs in on directing the updated version of the Tarzan and casting Alex, while Alex talks about his training regimen in his typical self-deprecating manner.
Yates also found Skarsgård a perfect Tarzan for 2015. The filmmaker liked that he was born in Sweden but found a career in America, so "he has this wonderful quality of not quite belonging to one or the other." Plus, there was a distinct grace and physicality to the 6-foot-4 actor.

"Tarzan needs muscles, but it's more a leaner, longer, more vertical modern man than the square-jawed stereotype we're used to," Yates says.

To get in Tarzan shape, Skarsgård spent four months in an all-consuming training regimen before principal photography started. "I basically didn't see my family or my friends," he says, though he adds that the part "was definitely worth getting up at 4:30 in the morning."

Skarsgård also partnered with choreographer Wayne McGregor to figure out the movements and posture of a guy who carries himself as an upper-crust Englishman yet ultimately re-embraces his wilder side when he returns to his Congo home.

"He works mostly with the best contemporary ballet dancers in the world, so it was quite unusual for him to work with somebody like me who can't touch their toes," Skarsgård quips.
The Legend of Tarzan is due for release in July 2016.