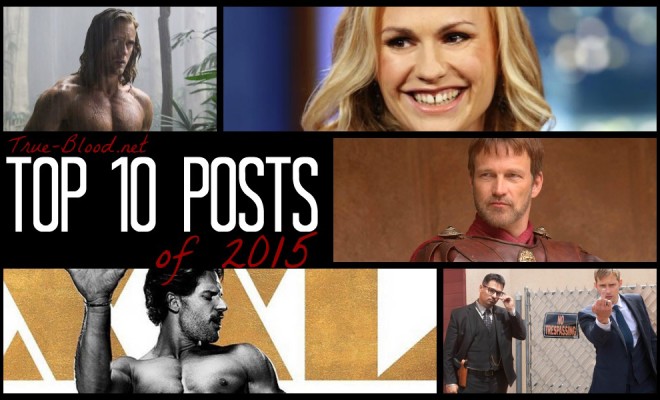 Our Top 10 Posts of 2015
|
It's been a quiet year for Truebies. No new episodes to watch, no new Sookie books to read, the cast and creative team moving on to other projects. But we have had news to get excited about and memories to share. Herewith, our top 10 posts from 2015.
First Look: Alexander Skarsgard in 'The Legend of Tarzan' – Posts about Alex are always popular, and if they include pictures of him shirtless? No wonder it made #1 on our list despite being published at the end of the year! (December 8)
Watch Alexander Skarsgard in 'The Legend of Tarzan' Preview – What a surprise, another Alex post tops the list. This time we get to see him in action as both Tarzan and Lord Graystoke. That sight gag at the end with the tea cup still cracks me up. (December 10)
Stephen Moyer to Star in New FX Drama 'The Bastard Executioner' – We were pretty excited about the idea of Stephen working with Kurt Sutter in this period action-drama. Although the series only lasted one season, it sounds like Stephen had a great experience with the project. (February 24)
Watch Stephen Moyer in This First Look at 'Killing Jesus' – More Stephen goodness! In addition to the FX series, Stephen co-starred in this miniseries based on the book by Bill O'Reilly. His Pontius Pilate was conflicted and complicated. (January 8)
Anna Paquin to Produce, Star in 'Madame X' Miniseries – Anna announced that her next live-action project is developing a period miniseries titled Madame X, based on Kate Manning's book My Notorious Life. We haven't heard anything further, but assume work on the project continues. (March 7)
Post-True Blood Update: Anna Paquin, Joe Manganiello, Riley Smith – In this news round up we found out that Anna Paquin will co-star in A&E's remake of Roots; Joe Manganiello made an animated appearance on Nickelodeon's Blaze and the Monster Machines; and Riley Smith landed a recurring role on this season's Nashville and a role in the pilot for FOX's Urban Cowboy. (September 16)
Friday Five: Unanswered Questions After the Series Wrapped – In this installment of our Friday Five series, we wondered about some of the plot points that were left unanswered when True Blood aired its final episode. (February 20)
Friday Five: Five Times True Blood Made Us Weep – True Blood got a lot of attention for the blood and sex, but the show hit some major emotional beats as well. This lists five times we wept while watching the show, then readers added their weepy moments in the comments. (March 6)
First Look: Alexander Skarsgard in 'War on Everyone' – Oh look, another Alex entry on the list! I know you are all surprised. The first still from the upcoming dark comedy War on Everyone shows an apparently pissed off Alexander Skarsgard giving the camera the finger while co-star Michael Pena casually displays his sidearm. (April 20)
Joe Manganiello Returning to TV in FOX's 'Scream Queens' – We thought this sounded like a ton of fun when FOX announced that Joe Manganiello has joined the limited series Scream Queens. Unfortunately Joe's promotional commitments for Magic Mike XXL meant he had to drop out of the project. He was replaced by Oliver Hudson. (January 17)
Our top 10 posts of 2015 are a mix of what the cast is doing now and looking back at the series, which gives us a good idea of what type of content you're looking for here. Readers also frequented our Music pages and Spoiler Guides, which we could probably update and streamline to be more comprehensive and accessible. As always, we will continue to update you on everything True Blood as well as the cast and creative team's new projects.
Happy New Year, Y'all!