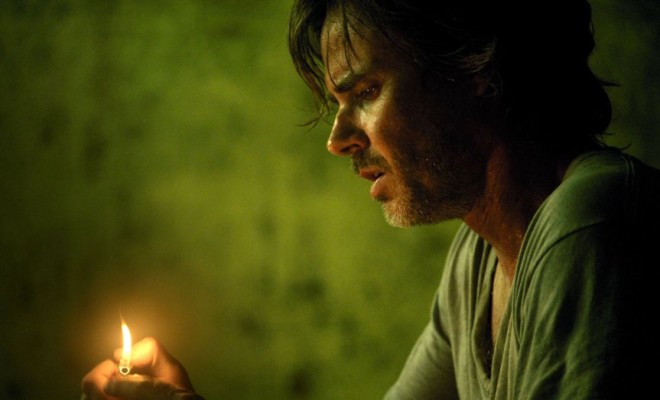 Sam Trammell Receives Raves for 'All Mistakes Buried'
|
True Blood alum Sam Trammell is receiving critical acclaim for his role in the independent movie All Mistakes Buried.
The movie, on which Sam also gets a story credit, follows Sonny (played by Sam), an addict who takes on a dangerous underground criminal ring in his small Southern town to retrieve a stolen pendant he believes will save his marriage (Sonny's wife is played by Sam's real life partner Missy Yager).
ALL MISTAKES BURIED – Trailer (Uncensored) from SSS Entertainment on Vimeo.
Trammell, who shares a story credit for the film, is excellent in a role that requires him to be on edge in almost every scene, while still showing some of the flashy charisma Sonny had before his downfall.
Matt Zoller Seitz at RogerEbert.com says:
If there were Oscars for Best Performance in a Movie Academy Voters Wouldn't be Caught Dead Watching, Trammell's performance would be a lock for a nomination. His work as Sonny doesn't just anchor the film, in many ways it is the film; nearly every second of "All Mistakes Buried" is anchored to Sonny's jittery, guilty, unrealistically hopeful consciousness, and it's so lively and imaginative that its baroque flourishes seem all of a piece (junkies aren't known for their subtlety). Trammell, who also acted for McCann in "White Rabbit," has thought through every gesture; many of them are extreme.
Trammell carries the film with the physicality of his performance as the jittery, panicked Sonny, exerting a tremendous effort to contain his rising desperation and hysteria.
But even when all the puzzling pieces of Sonny's existence don't quite fit, Trammell's beautifully unhinged performance offers a compelling vision of a grieving narcissist burrowing into the rabbit hole of his own mind.
All Mistakes Buried is currently playing in select theaters. Also available through iTunes, Amazon and OnDemand.