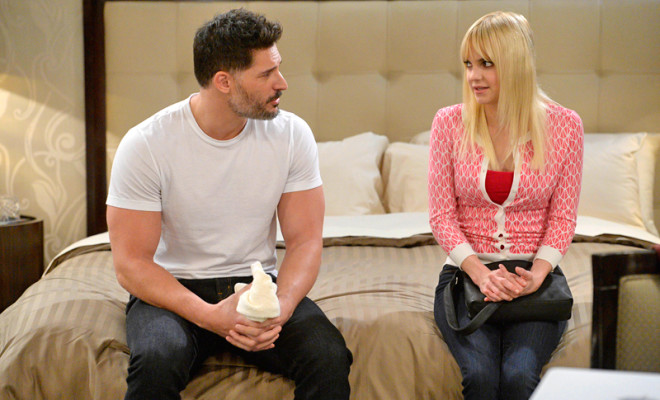 Joe Manganiello Guest Stars on 'Mom' Tonight
|
Joe Manganiello's episode of Mom finally airs tonight. We first heard the news that he was guest starring on the CBS show last October. The network held the series premiere back until November, so while he filmed the episode several months ago, we're just now getting to see it.
In this episode, titled "Cinderella and a Drunk MacGyver", Joe plays Julian, a newcomer to Alcoholics Anonymous who Christy (Anna Faris) takes under her wing. She struggles with keeping her feelings platonic, though, because, well, look at him! From the publicity photo released (above), they do make it as far as the bedroom.
Mom deals with addiction frequently – the two leads are recovering addicts – and with a remarkably accessible and realistic tone. Joe has been open about his own battle with alcoholism in the past, and based on the teaser, it looks like he'll be bringing some of that experience to the role.
Mom airs Thursdays at 9/8c on CBS.