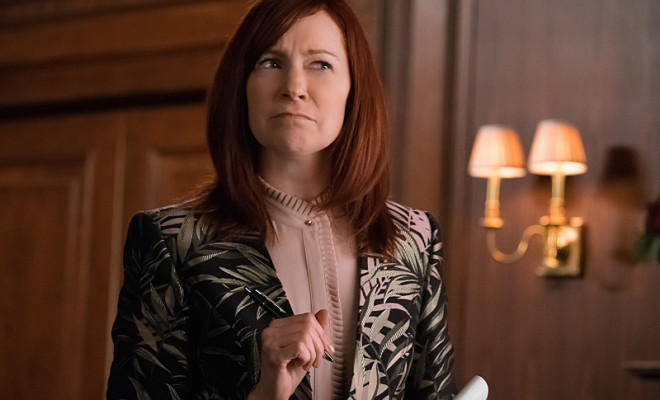 Carrie Preston Returns to 'The Good Wife' Tonight
|
Carrie Preston returns to The Good Wife tonight as fan-favorite Elspeth Tascioni, and it appears that we're about to meet the ex-husband of our favorite flighty-but-brilliant attorney.
Official Synopsis
ALICIA JOINS A SECRET PANEL OF ATTORNEYS ADVISING THE U.S. GOVERNMENT ON A CONTROVERSIAL CASE, ON "THE GOOD WIFE," SUNDAY, FEB. 21

Carrie Preston Returns as Attorney Elsbeth Tascioni, and Will Patton Appears as Her Ex- Husband, Attorney Mike Tascioni

"Targets" – Alicia joins a secret panel of attorneys advising the U.S. government on a controversial case. Also, Eli hires Elsbeth Tascioni (Carrie Preston) to uncover why the FBI is targeting Peter, on THE GOOD WIFE, Sunday, Feb. 21 (9:00-10:00 PM, ET/PT) on the CBS Television Network. Will Patton guest stars as attorney Mike Tascioni.
The Good Wife airs Sundays at 9/8c on CBS.
Carrie's new sitcom, Crowded, premieres Sunday, March 20 at 9:30/8:30c with a special preview Tuesday, March 15 at 10/9c on NBC.